'The Inescapable Reality of E-Commerce in a Post-COVID World' to Be Hosted by ERP Advisors Group
Press Release
-
updated: May 22, 2020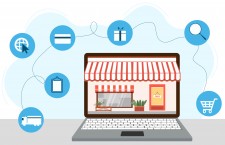 DENVER, May 22, 2020 (Newswire.com) - On Thursday, May 28, ERP Advisors Group will host a conference call and live podcast explore the changing customer experience and discuss how to find the best e-commerce software in 2020.
Register now: https://erpadvisorsgroup.com/event/the-inescapable-reality-of-e-commerce-in-a-post-covid-world
As the e-commerce conundrum has shifted from "optional" to "unavoidable" in the wake of COVID-19, almost every company has started considering an e-commerce implementation. On this call, the Founder and Managing Principal of ERP Advisors Group, Shawn Windle, will explain why e-commerce applies to everyone now.
"Business and organizations need to explore ways to increase their online presence and reassess how they interact with customers," he said. "That means reviewing your existing e-commerce solution to ensure it is robust enough to meet increased online demand. And if you don't have an e-commerce implementation, you probably need one."
ERP Advisors Group evaluates software solutions across dozens of industries to provide independent guidance on enterprise software, helping clients find solutions and tools to handle the most unique requirements.
"Enterprise software projects are not without risk," said Windle. "That's why you need a trusted advisor to help you navigate complex projects. We don't sell software or take commissions. Being truly independent ensures we find the right e-commerce solutions for our clients."
To register for the call, please visit https://erpadvisorsgroup.com/event/the-inescapable-reality-of-e-commerce-in-a-post-covid-world
Source: EAG
Share:
---
Categories: e-Commerce
Tags: BigCommerce, E-Commerce, Enterprise Resource Planning, Enterprise Software, ERP Optimization, Magento, Shopify
---