The Harlan Residences Are Ready for Their Closeup at 6533 Hollywood Boulevard
Press Release
•
Apr 5, 2022
Skylight Residential, Inc. is responsible for the leasing and marketing of the historic building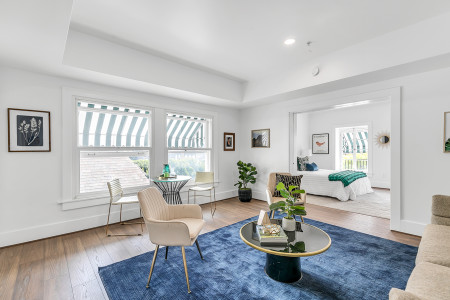 LOS ANGELES, April 5, 2022 (Newswire.com) - At 6533 Hollywood Blvd., old Hollywood glamour meets modern living at newly redesigned & renovated The Harlan Residences. The historic property was redeveloped by JCI Development, Inc. and True USA and is being marketed and leased by Skylight Residential, Inc. Originally called the Hillview Apartments, the property was built in 1917 by movie moguls Jesse L. Lasky, co-founder of Paramount Pictures, and his brother-in-law Samuel Goldwyn, co-founder of MGM. It was a cultural hotspot from the start as it was one of Hollywood's only apartment buildings at the time willing to rent to aspiring actors.
Today, The Harlan Residences is making its own mark in Hollywood by offering a true one-of-kind living experience. The building features 54 newly-appointed modern apartments comprised of 27 studios, 13 one-bedroom and 14 two-bedroom units.
"This has been an unprecedented opportunity to redevelop Jesse Lasky and Samuel Goldwyn's original vision for Hollywood living," said Jeff Isenstadt, President & CEO of JCI Development, Inc. and Developer and Co-Managing Partner for The Harlan Residences. "Our entire team has done a magnificent job at revitalizing this historical landmark back to the community it serves."
The Harlan Residences is Hollywood personified. In addition to 54 newly appointed apartments, the basement of The Harlan (which used to be Rudolph Valentino's private rehearsal space, and later a speakeasy) features a handful of wildly successful venues from Houston Hospitality, making The Harlan Residences the new focal point for modern living for today's renter.
"This amazing and captivating property reflects the booming energy of today's Hollywood landscape," said Kathleen Rawson, CEO of The Hollywood Partnership. "We are proud to see this iconic building reclaim its star power on the Hollywood Walk of Fame."
Hollywood has recently seen a rebirth as a true design destination (not to mention culinary mecca), thanks to a brand-new neighborhood branded the Vinyl District for its rich musical history. The Vinyl District is home to many crown jewels: Grandmaster Recorders, The Thompson Hollywood Hotel, Mother Wolf, Heimat, Luminary Hotels, Tommie Hollywood and The Godfrey Hotel Hollywood to name a few.
"Residents of The Harlan Residences are at the epicenter of everything LA's Vinyl District has to offer and bring a new wave of creative talent to Hollywood," said Jason Shenitzer, CEO of Skylight Residential, Inc., whose company is marketing & leasing The Harlan Residences.
About JCI Development, Inc.
Los Angeles, California-based JCI Development, Inc. was founded in 2000 and is engaged in the development and ownership of commercial, multi-family and mixed-use projects. More information about the company is available on their company website at www.jcidevelopment.com.
About True USA
True USA is a Real Estate Investment Company located in Newport Beach, California.
About Skylight Residential, Inc.
Skylight Residential, Inc. is a marketing and leasing firm focused on maximizing multifamily rents and absorption throughout the greater Los Angeles area. Skylight's goal is to amplify their client's vision and intention through a combination of innovative technological solutions and the highest levels of creative marketing.
Source: Skylight Residential, Inc.
Tags
Related Files