The Great Dad Challenge Begins May 8 and Announces Terry Bradshaw as a Guest Speaker
Press Release
•
May 4, 2023
5 Days. 5 Challenges. 5 Former NFL Players.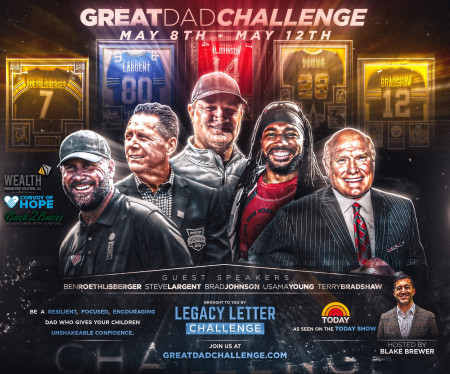 TULSA, Okla., May 4, 2023 (Newswire.com) - Blake Brewer, founder of the Legacy Letter Challenge and recently featured on the Today Show, is excited to announce the Great Dad Challenge — a five-day virtual event for dads all over the country to learn lessons that will transform them into resilient, focused, encouraging dads who give their children unshakable confidence.
What is the Great Dad Challenge? Starting May 8, dads will receive a new challenge in their inbox each day designed to help men become the fathers their families deserve. The challenges will be delivered by some of the leading names in the fatherhood space.
Plus, everyday dads will be invited to join a special presentation by a former NFL player to talk about their unique fatherhood journey.
All four of the five players have won a Super Bowl and there are two Hall of Famers who will be sharing.
The most recent edition is Terry Bradshaw, a Hall of Fame quarterback who won four Super Bowls with the Pittsburgh Steelers. Bradshaw currently serves as an NFL analyst and co-host of Fox NFL Sunday.
Bradshaw recently stated, "My family and my girls are the most important thing to me."
The Great Dad Challenge is hosted by Blake Brewer, son of Larry Brewer who was Bradshaw's tight end at Louisiana Tech.
What will dads learn during the Great Dad Challenge?
Hack #1: Vision — Great dads have a great vision for their family. The Great Dad Challenge will help you increase your vision.

Hack #2: Resiliency — Life is coming at you hard. Learn how to be resilient and how to help your children be resilient.

Hack #3: Connection — Your children need you to connect with them, but it's not easy. Learn practical tools to connect with them every single day.
Among all the dads who complete all five challenges, one dad will win a three-night stay at the beautiful Feather Ridge Retreat in the Cherokee National Forest ($2,500 value).
Join dads from all over the country who aspire to be great dads and want to help their families and children succeed. Registration is free for the Great Dad Challenge. Register at www.greatdadchallenge.com.
Source: Legacy Letter Challenge
Tags