The Future Looks Brighter: Youth-Led Nonprofit Organization Helps Thousands of Colorado's Homeless
Don't give up on the next generation. Student-run nonprofit is working to serve Colorado's homeless while still in high school.
Press Release
-
updated: Feb 4, 2019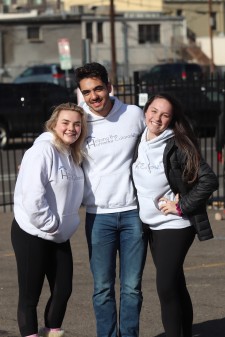 DENVER, February 4, 2019 (Newswire.com) - Helping the Homeless Colorado is a Denver-based nonprofit organization dedicated to improving the lives of those individuals within the community who face homelessness. The organization was founded by high school students, Alyssa Gorkin, Matine Khalighi, and Ali Ginsburg in 2016. Inspired to bring together their community, this group of youth looked towards its members who were left behind. Built firmly on a foundation rooted in advocacy and education, Helping the Homeless Colorado works to create a comprehensive structural solution to tackle this issue at its core and putting forward relieving efforts. Taking this one step further, the group works to educate and empower other youth to take a personal stake in the community's future.
The first pillar of action addresses advocacy. This pillar is fundamental in bringing to light policies that will engage our community in proactive and supportive activities that bring awareness to a system filled with missing policies. Many times, there is a lack of policy governing certain socioeconomic groups. By nature, this allows for the recognition of people as less than or unimportant in our communities.
Education, the second pillar, plays a vital role in reshaping the public view on homelessness. By educating the public on the aspects of the issues that surround the homeless community, the group is able to peel back stereotypical perceptions of the homeless and focus on moving forward with effective social change initiatives within the community. Helping the Homeless Colorado puts a large emphasis on youth involvement in social change.
Lastly, Helping the Homeless Colorado's overall goal is to alleviate those in the community struggling with homelessness. This is accomplished by dedicating efforts toward accessible resources and youth involvement in the group's initiatives. The organization sets "outreach days" in which they pass out hygiene products, food, and winter clothing to the homeless. Also, in this pillar, the main objective is to help those youth who face homelessness in our communities. Through initiatives such as the Scholarship Program, this group has been able to help high school seniors make strides towards higher education, ensuring a more stable future.
Homelessness continues to be one of this country's most intractable social issues. However, Alyssa Gorkin, Matine Khalighi, and Ali Ginsburg, as well as a constantly growing community of interested supporters, believe that it is up to them to reach out a helping hand to those in need. The organization is firmly rooted in the principle that this is their community and, as such, their responsibility. They believe that together we will be able to make tremendous strides towards a brighter future for our homeless population.
To find out more and get involved visit: www.helpingthehomelesscolorado.org. Email them at info@helpingthehomelessco.org. Follow them on Facebook, Instagram (@helpingthehomelesscolorado), Twitter (@_HTH_CO). Their mission is to create a comprehensive structural solution to homelessness that addresses the issue at its core and to empower our youth to be the basis of this change.
Media Contact:
Matine Khalighi
matinek@helpingthehomelessco.org
303-570-5927
Source: Helping the Homeless Colorado
Share:
---
Categories: Non Profit, Charitable Contributions
Tags: change, charity, colorado, donations, helping others, high school students, homelessness, non profit, poverty, scholarships, teens, youth
---