The Florence Academy of Russian Art - Learn Traditional Techniques of Painting, Drawing and Composition
Press Release
•
updated: Dec 26, 2017
1-year, 3-year and short courses to teach 300-year old traditional techniques in visual arts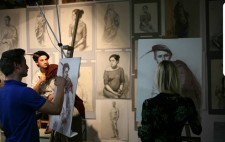 Florence, Italy, December 22, 2017 (Newswire.com) - Since 2009, Florence Academy of Russian Art (FARA) has been offering courses in visual arts. These courses focus on traditional techniques that hone the skills of the students to become well-groomed future professionals in the field.
FARA calls itself "The Best Place for Art." It prides itself in teaching the traditional visual arts, but also offers its students the freedom to evolve and find their own inspiration. Being situated in the city of Florence, the esteemed institution sits in close vicinity of the breathtaking works of some of the best artists to have ever lived, such as those of Michelangelo, Brunelleschi, Botticelli, Dante Alighieri and Leonardo Da Vinci. The teaching pedagogy at FARA is a distilled version of the 300-year old techniques that boast contributions from the masters like Repin, Surikov, Kuindzhi, Serov, and Levitan. These tried and tested methods have been perfected by artists over the course of centuries, making the coursework at FARA a highly enriching experience for its students.
FARA has carefully designed multiple courses that touch upon different aspects of the visual arts. The basic 1-year program at FARA is a fundamental course that teaches the students to master the skills of academic drawing and painting. It starts at the basics from geometric figures, eventually graduating into portraits. The institution offers an extension to a 3-year program as well.
The 3-year program at FARA offers to develop multiple skills, including sketching, drawing, painting, anatomy, perspective, composition, and more. On completion, the students are awarded a private institutional diploma in the visual arts.
Apart from the annual programs, there are also short-term programs offered by FARA. The Intensive Portraiture Couse provides a deep insight into complex head shapes, character of model, anatomy breakdown, face detailing, and color content. The institution also offers a separate Artistic Anatomy Course which trains students in intricate drawings of human figures and creation of illusions of reality. The Plein-Air is another noteworthy course. It offers an extensive painting program that teaches the student to pay more attention to color mixtures and create realistic pieces of painting.
Mature artists and beginners can enroll in these courses to develop their skills and add new dimensions to their personal art sensibilities.
New batches at the Florence Academy of Russian Art start out on 05/02/2018. Interested candidates can email them at <info@artac.org> or check their website for more information on the courses. www.artac.org
Source: Florence Academy of Russian Art
Related Media