The First-Ever All-Women Big-Wave Surf Contest Comes to Waimea Bay for Red Bull Queen of the Bay
30 of the best women in surfing will gather to challenge the most famous big wave in the world
Press Release
-
updated: Nov 13, 2017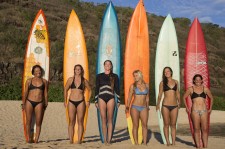 HALEIWA, Hawaii, November 13, 2017 (Newswire.com) - During the holding period beginning Oct. 1-Nov. 21, 2017, Red Bull Queen of the Bay will bring the first-ever all-women big-wave surf competition to Waimea Bay. The inaugural event honors Hawaiian female surfer Queen Ka'ahumanu, the first Kuhina Nui, and other powerful Hawaiian women. Queen Ka'ahumanu was known to be the first to sit at the table with men. "That's pretty much what we're doing at Waimea — we're eating at the same table as the men," says Guatemalan surfer Polly Ki Ralda.
"Waimea Bay is where the passion begins for many big-wave riders," says event co-director Wrenna Delgado. "Finally, the women will have an opportunity to show their dedication and skill at the most famous big wave in the world."
This event will take place on Oahu on a weather-dependent date in October or November. The North Shore is ground zero for not only big-wave surfing but for the entire surf world - Waimea Bay is its grandstand. "It's really important to me and some of the other girls to show what we can do. I have a lot of respect for Waimea Bay and the history of women's surfing," says Hawaiian surfer Makani Adric. "You do get an adrenaline rush and it's a dream to be surfing there."
The contest will feature many of the top, most recognizable names in professional women's surfing from around the world including contestants from Australia, Brazil, Chile, France, Guatemala, Ireland, Portugal, South Africa, USA and Hawai'i-based pro-surfers:

1. Makani Adric, Hawaii
2. Paige Alms, Hawaii
3. Jessica Anderson, Chile
4. Joana Andrade, Portugal 
5. Justine Dupont, France
6. Emily Erickson, Hawaii
7. Michaela Fregonese, Brazil
8. Sarah Gerhardt, USA
9. Brittany Gomulka, USA
10. Claudia Goncalves, Brazil
11. Tayla Hanak, Australia
12. Raquel Heckert, Brazil
13. Keala Kennelly, Hawaii
14. Sheila Lee, USA
15. Blake Lefkoe, USA
16. Andrea Moller, Brazil
17. Remi Nealon, Hawaii
18. Kelta O'Rourke, Hawaii
19. Nicole Pacelli, Brazil
20. Felicity Palmateer, Australia
21. Emilia Perry, Hawaii
22. Polly Ralda, Guatemala
23. Gypsy Ann Russ, USA
24. Momo Sakuma, Japan
25. Kiyomi Sheppard, Japan
26. Tammy Lee Smith, South Africa
27. Jamilah Star, USA
28. Jenny Useldinger, USA
29. Bianca Valenti, USA
30. Shakira Westdorp, AUS
Contest director Betty Depolito says, "We are designing this contest as a historical Hawaiian event to bring light to facts about Hawaiian female surfers from days' past. There are many hula chants about the big wave Hawaiian women surfers and we want to preserve these stories in the image of the modern-day female big wave rider through Red Bull Queen of the Bay."
"I'm super excited to be involved in a women's event at Waimea," says Paige Alms, current Big Wave World Champion and XXL Big Wave Champion. "It will be an amazing opportunity to have another big wave event in Hawaii and I look forward to seeing all of the girls charge!"
ABOUT BETTY DEPOLITO & WRENNA DELGADO:
Contest Director Betty "Banzai" Depolito has made an impact charging big waves all over the world, including Waimea Bay, since 1979. "Banzai Betty" is a pioneer of women's surfing videos, reporting, media and production. Depolito also has produced and directed many surf competitions like The North Shore Tow-In and The Pipeline Women's Pro. She also produces the FlHi Girls Surfing & Sports TV show.
Co-Director Wrenna Delgado's mission is to create opportunities to showcase the beauty in the strength of women who ride big waves, and to create positive role models that keep pushing the limits of the next generation into the realm of possibility. Wrenna has tested her surf skills competitively and noncompetitively at iconic surf spots including Mavericks, Peahi and Puerto Escondido.
Get more information on Red Bull Queen of the Bay and the minds behind it at redbull.com/bettyandwrenna.
YouTube Video:
https://www.youtube.com/embed/SXR2wnJzBNs
Source: Red Bull Queen of the Bay
Share:
---
Categories: Xtreme Sports, Surfing
Tags: Female Surfer, Hawaii, Makani Adric, Oahu, Queen of the Bay, Red Bull, Surfing, Xtreme Sports
---