The First Ethical Marketplace From Eastern Europe Launches to the Global Market
Press Release
•
updated: Sep 26, 2017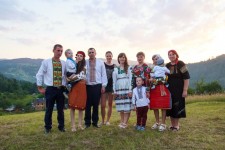 MORGANVILLE, N.J., September 26, 2017 (Newswire.com) - The first ethical marketplace from Eastern Europe Three Snails.com announces the launch to the global market. Being started in Ukraine in 2015, Three Snails offers handicrafts made from natural materials and allows conscious shoppers to buy trendy items created by local artisans while making a positive impact.
Three Snails team believes that the success story of such marketplace and knowledge about local artisans can create the development direction for CIS countries and to enable large sections of society to escape from the difficult economic situation.
Artisans and their craft have the potential to become the 'super story' of Ukraine.

Olena Vechkanova, Three Snails founder
The idea to create Three Snails came up as a response to the global demand for uniqueness and diversity, as well as a growing trend for ethical shopping. More and more people value emotions, energy, legend and symbols incorporated in goods. They want to know who made these products and how production affected the environment. The founders state that craftsmen and small responsible manufacturers can totally meet these demands.
"Artisans and their craft have the potential to become the 'super story" of Ukraine," tells the founder, Olena Vechkanova. Because we have everything that people value and want in today's world: eco-friendly techniques, natural materials, craft traditions, legends, culture, and people who love what they do."
In the world people know a lot about artisans and culture of Asian, African and Latin America countries, but not much about Ukraine or other CIS countries. Meanwhile, Ukraine is the second largest country in Europe with very strong craft traditions which are kept for centuries. Here many people historically made a living from crafting goods and passed their knowledge from generation to generation. Nowadays nearly 17 percent of the population practices traditional crafts as means to an income and each fourth woman masters at least one handicraft technique.
However, giving the political and economic situation in the country, the average salary has dropped down dramatically (for rurals it is as little as $50-150 per month) and it became quite hard to sell handmade on the local market. Many craftsmen faced the economic crisis, became disappointed and waived their art in favor of any lucrative career. Very often, in order to sustain their families, artisans were forced to move to the bigger cities or abroad and look for a low qualified job. Their houses and even villages remain empty and with that, the nation automatically loses its craft traditions and culture.
Three Snails aims to change the situation. Its mission isn't merely to provide a platform but to empower local artisans and promote Ukrainian culture. The team of Three Snails seeks to give artisans A CHANCE TO stay in Ukraine, to live in their families, to do what they love and to follow national identity.
TS doesn't work as a classical marketplace. The team works directly with rural communities and artisans in order to include also those who don't use internet (for now only 53 percent of the population in small villages and mountain areas are connected to the internet). People from such regions don't have PayPal accounts, good photos or product description and very often — no believes that what they do might be in demand abroad. TS fills this gap providing all educational, marketing and service support necessary to succeed in today's world.
Once limited to village markets or tourist shops, Ukrainian handmade now can easily be accessed by anyone, anywhere. TS not only connects artisans with consumers but also bridges modern trends with old traditions and symbols, contemporary needs with historical eco-friendly craft-making techniques.
In the era of globalization, the internet provides opportunity to discover huge territories of CIS countries that, surprisingly, are still isolated from the global community. At this point handmade serves as the link between two worlds and reveal a huge reserve of senses, warmth and unique knowledge which are kept inside Eastern European countries.
Additional materials:
More information about Three Snails
For more information, please contact:
Olena Vechkanova​
+38 067 232 93 10​
​lv@three-snails.com
Source: Three Snails
Related Media
Tags
Additional Links