The Financial Impact of Having Children, According to Ameritech Financial
Press Release
-
updated: Jul 9, 2018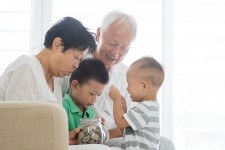 ROHNERT PARK, Calif., July 9, 2018 (Newswire.com) - Starting a family is the typical next step for married couples in the United States. Having a child is an exciting time, but also a financially impactful one. Though costs vary by region, as of 2017 the average child costs $233,000 to raise until age 17. At nearly $14,000 a year, this can have a potentially negative impact on a parent's other financials, including student loan debt. Ameritech Financial, a document preparation company that assists student loan borrowers with federal student loan repayment plan applications, reminds borrowers that if they can't afford their student loan payments, they may benefit from a more flexible repayment plan like an income-driven repayment plan (IDR). IDRs are based on both family size and income, which means that an increased family size may also decrease the monthly student loan payments while in an IDR.
"Starting a family is financially taxing, and having a large amount of student loan debt does not help growing families," says Tom Knickerbocker, executive vice president of Ameritech Financial. "These families may benefit from some extra support, especially if they begin to see costs grow more than they had expected."
Knowing what to expect is half the battle, so turning to budgeting is one great step for new families. Tray McBeth at The Blue Room writes that it is important to "sit down and work out your projected income and expenses. Be brutally honest about what you're spending and be careful not to underestimate any future costs … put together a weekly or monthly estimate and include it in your budget. It's always better to overestimate than be left short."
Starting a family is financially taxing, and having a large amount of student loan debt does not help growing families.
Conclusively, money does matter to not only the parents but the entire family. According to the Washington Center for Equitable Growth, "Inadequate family income is harmful for children — particularly young children — affecting their long-term social-emotional, cognitive, and academic outcomes even when controlling for other parental characteristics."
Since money does matter so much for starting a family, cutting back and budgeting is a popular way to account for the soon-to-be-added costs. "If you're over budget, looking into loan repayment plans like income-driven repayment plans can be very important," says Knickerbocker. "At Ameritech Financial, we help borrowers understand and apply for IDRs in the hope that our clients feel more comfortable in having a grasp on their finances."
About Ameritech Financial
Ameritech Financial is a private company located in Rohnert Park, California. Ameritech Financial has already helped thousands of consumers with financial analysis and student loan document preparation to apply for federal student loan repayment programs offered through the Department of Education.
Each Ameritech Financial telephone representative has received the Certified Student Loan Professional certification through the International Association of Professional Debt Arbitrators (IAPDA).
Ameritech Financial prides itself on its exceptional customer service.
Contact
To learn more about Ameritech Financial, please contact:
Ameritech Financial
5789 State Farm Drive #265
Rohnert Park, CA 94928
1-800-792-8621
​media@ameritechfinancial.com
Source: Ameritech Financial
---
Categories: Financing and Student Loans, Financial News
Tags: children, federal student loans, income-driven repayment, starting a family
---