The Faces of Rural Health in the Spotlight on National Rural Health Day 2018
Press Release
-
updated: Nov 9, 2018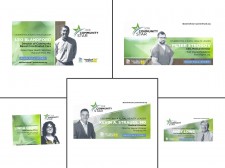 STERLING HEIGHTS, Mich., November 9, 2018 (Newswire.com) - Every year in the United States, the third Thursday of November is recognized as National Rural Health Day. On Nov. 15, 2018, the National Organization of State Offices of Rural Health (NOSORH), the 50 State Offices of Rural Health, Federal, state and local agencies, and healthcare organizations across the country will honor the thousands of men and women, hospitals, healthcare professionals, emergency first responders, and others serving the unique health needs of nearly 60 million rural lives.
While much of the focus on rural health issues today relate to unmet needs and challenges, such as the growing opioid crisis and rural hospital closures, National Rural Health Day aims to celebrate the "Power of Rural" to improve rural health. NOSORH is calling attention to those who support and lead the way in rural health innovation, collaboration, education, and communication.
As a part of the day-long nationwide celebration, NOSORH will publish its annual collection of "Community Stars." The electronic book, available on Power of Rural and NOSORH websites on Nov. 15, contains the heartfelt stories of over 70 dynamic, accomplished, and selfless rural health professionals, volunteers, and organizations, each of them nominated to honor their tireless efforts and outstanding rural community service in the name of improving rural health access, quality and outcomes.
One of the many extraordinary rural health heroes featured as a 2018 Community Star includes TEDx Talk alumnus, Dr. Kevin A. Strauss, Medical Director of the Clinic for Special Children in Strasburg, PA. Dr. Struass is doing breakthrough work for Amish and Mennonite pediatric patients diagnosed with rare genetic disorders unique to this population.
Others featured include Linda Craft, a nurse who has dedicated her life to battling substance abuse in rural Kentucky, an area with one of the highest opioid abuse hospitalization rates in the country, Andy Lowe and Leo Blandford, of Outer Cape Health Services, both of whom are literally a light of hope for the migrant communities of Cape Cod's most remote areas. Also featured is former Wall Street executive and 911 ground zero volunteer, Dr. Peter Strogov, who traded in his ties for scrubs, now running pediatric clinics in rural Alabama. In all, 29 states submitted nominations.
See the following links for a detailed list of Community Stars:
Contact Michelle@doitwithimpact.com for additional information, and to receive their profile in advance of National Rural Health Day, or schedule an interview.
Free National Rural Health Day toolkits, celebration idea guide, and details about events occurring nationwide can be found at PowerofRural.org.
Michelle Rathman
630-865-4439 | michelle@doitwithimpact.com
Ashley Muninger
(888) 391-7258 Ext. 104 | ashleym@nosorh.org 
###
Source: NOSORH
---
Categories: Healthcare, Active and Healthy Living
Tags: Health, national health, national rural health day, PowerofRural, rural
---