'The Essential Oliva Cigars Tasting Guide' Offers Best Consumer Picks
Press Release
•
updated: Oct 19, 2017
CigarAdvisor.com Editors Review Oliva's Leading Premium Cigars in New 2017 Report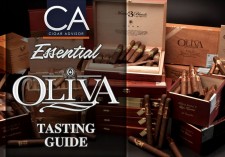 EASTON, Pa., October 19, 2017 (Newswire.com) - "It took three generations and two government revolutions to make Oliva Cigars," begins "The Essential Oliva Cigars Tasting Guide" by the editors at CigarAdvisor.com. Like many of their contemporaries, the Oliva family has a rich Cuban tobacco-growing history starting in the 1880s with Melanio Oliva working in the fields of Pinar Del Rio. Emigrating to Nicaragua after the Cuban Revolution of 1959, today the Olivas have attained even greater success by continuing to produce many of the world's most sought-after premium handmade cigars. To underscore the Oliva's dedication to excellence, "The Essential Oliva Cigars Tasting Guide" calls attention to the brand's most popular cigars for both new and experienced cigar smokers.
"For this guide, we smoked Oliva cigars in the natural and maduro versions," said Managing Editor, John Pullo. "You can smoke the same cigar in the same size, yet, all it takes is a wrapper change to create an entirely new taste experience, and we wanted to show how different they really are."
What we wanted was a listing as comprehensive as possible so cigar consumers had the clearest picture of the entire Oliva cigar stable.

John Pullo, Cigar Advisor Managing Editor
Among the featured cigars in the Tasting Guide is the Oliva Serie V Melanio Robusto. Rolled in an Ecuadorian Sumatra wrapper, Mr. Pullo describes it as "a beefy and complex cigar ... Flavors abound, like ping pong balls in a wind tunnel ... The smoke output is still smooth and creamy, and the cigar leans toward full (but not too full) body. That is, until you get down to the primary band, where it's banging on all eight cylinders."
Comparing it to the San Andres Maduro version, Mr. Pullo writes, "About an inch in, that San Andres sweetness finally comes on in the form of toffee across the tongue. Good rips of thick smoke come along with it, and the ash holds really nice. Superb construction here, [but] I didn't find the Maduro to be as complex. The flavors are tasty enough – but the layers aren't there in the same way as in the Sumatra."
Reporting on the Oliva Master Blends 3 (made only with a Connecticut Broadleaf maduro wrapper), Editor-at-Large, Tommy "Zman" Zarzecki, wrote, "Even though it gets some very high marks, I don't think it gets the fanfare it deserves. This is a top-tier, full-bodied premium – a box-pressed smoke ... whose smooth and luscious Broadleaf wrapper is so damned inviting."
Among the more mainstream Oliva cigars featured in the Tasting Guide are the Oliva Serie G Torpedo, Oliva Serie O Toro, and Oliva Connecticut Reserve Toro, as well as two recent releases – the Gilberto Oliva Reserva, rolled in an Indonesian Sumatra wrapper and the Gilberto Oliva Reserva Blanc, capped by an Ecuadorian Connecticut wrapper. About the Reserva Blanc Toro, Fred Lunt wrote: "While a tad milder than the Sumatra, it holds a creamy flavor profile that's too good to miss. The start was full of heavy cream with toast, white pepper, and leather, then opened up with a honey-like sweetness of cedar, cashews, white pepper, leather, and a tang."
The Guide also spotlights the Oliva bundle cigar selections, such as the robust El Cobre by Oliva Double Fuerte.
"Even as it got peppery, it was still very smooth for a Double Fuerte," wrote Mr. Pullo. "With 2" left, the El Cobre gets super-full. Buzz time."
For the affordably-priced Flor de Oliva cigar bundles, offered in Natural (Sumatra), Corojo, Gold (Connecticut), and Maduro wrappers, Executive Editor, Gary Korb, notes, "Flor De Oliva cigars are firsts, not seconds or overruns," adding, "Only the Sumatra has a sweetened cap, but it's lightly applied and doesn't have an artificial taste ... The smoke issues a delectably sweet and earthy spiciness with dominant notes of nutmeg and cinnamon that cling to a cedary base note."
"There was a lot to cover for this Guide," said Mr. Pullo. "What we wanted was a listing as comprehensive as possible so cigar consumers had the clearest picture of the entire Oliva cigar stable."
The complete list of Oliva cigars reviewed by the CigarAdvisor.com staff can be found in The Essential Oliva Cigars Tasting Guide.
About Cigar Advisor
Cigar Advisor, the nation's premier online cigar magazine, proudly serves cigar enthusiasts with a uniquely down-to-earth perspective on the enjoyment of premium cigars. Well-known and highly regarded for providing acclaimed educational cigar content and behind-the-scenes industry articles from some of the business's top names, the Cigar Advisor editors deliver an array of content that speaks directly to those who enjoy the cigar lifestyle.
Source: Cigar Advisor
Related Media
Additional Links