The East Africa Chamber of Commerce Rebounds the Challenges of the Pandemic at Their Upcoming Annual Trade Conference in Irving, TX: "New Start, New Rules, New Trade"
Press Release
•
updated: Oct 1, 2021
City of Irving Mayor, Rick Stopfer, will welcome attendees on Day 2 during the notable and anticipated Power Breakfast, starting at 8:00 am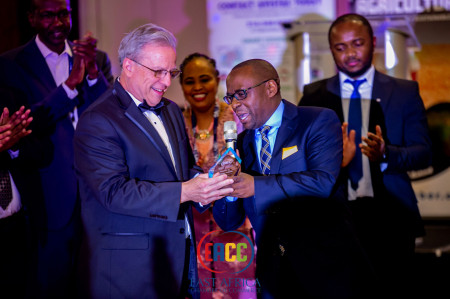 IRVING, Texas, October 1, 2021 (Newswire.com) - Just one week away, members of the East Africa Chamber of Commerce (EACC) gear up for three days of insightful discussions and business negotiations via a hybrid summit. The conference will be held October 7 through October 9 at the Marriott Las Colinas Hotel in Irving, where participants will discuss trade and investment in Africa, financial services, healthcare, real estate, technology, and education and youth empowerment.
High-level government and business leaders will carefully consider what the conference touts as the only way to respond to the COVID-19 pandemic—a "new start" with "new rules" for "new trade." In-person and virtual attendees will discover new ways of navigating business in a "post" COVID world. Presentations will include insights from industries the EACC has highlighted at their previous conferences but through the lens of recovery.
EACC is dedicated to economically empowering and sustaining its member communities through entrepreneurship, consulting, and promoting trade opportunities in both North America and the East African Community (EAC) via interaction with each region's businesses and governmental sectors. With the strength of the EAC member countries who represent rapidly emerging markets, totaling 170 million people and $440B USD regional GDP, this conference is sure to benefit an already maturing economic region. The EACC's country partners include the embassies of Kenya, Uganda, Tanzania, Burundi, and Rwanda, as well as the US Department of Commerce and U.S.-based investors.
Major sponsors of the conference include Google, ADP, Prosper Africa, World Remit, Almond Estate Company LTD, Certified Homes, City of Irving, Avista, Professional Home Health, AJ & Partners Consortium, and Concept Enterprises.
Additionally, this year, the conference will host special sessions on education and youth empowerment, as well as the well-respected Women Connecting Women, going on its fifth year. The previous successes of this panel encouraged a return from women among the Big Four Agenda.
"COVID-19 shook the globe, but I'm proud to work in collaboration with so many resilient partners in the East African region and the U.S. who have put community first," said Elsa Juko-McDowell, Chairwoman of the EACC. "We're in the business of cultivating possibility despite the odds," she finished. This hybrid summit is not one you will want to miss. All business organizations and institutions are invited to attend. Register at www.eachamber.org.
###
The East Africa Chamber of Commerce was formed with the vision to advance the social and economic development relationship between businesses and governmental agencies of East Africa and the U.S. With the endorsement of the governments of East Africa, through their Washington embassies, the Chamber is seeking membership, partnership and affiliations that will enable it to meet its objectives of: (1) representing the emerging markets of its member countries, and (2) providing access to networking and consultation opportunities required for the success of business development and enhancement.
For more information, visit www.eachamber.org. Follow us on Facebook, Twitter, and LinkedIn.
Source: East Africa Chamber of Commerce
Tags