The Drew Books Releases New Book Educating About Caring for Pets: 'Drew and Boo Adopt Lou & Sue'
Author Justine Del Monte and Illustrator Brandon Chappell have created the fourth in the series of Drew Books
Press Release
-
updated: May 31, 2017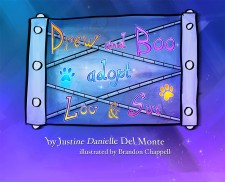 Suisun City, CA, May 31, 2017 (Newswire.com) - The Drew Books, a product of Charter Road Productions, has just released a new book, "Drew and Boo Adopt Lou & Sue." This is the fourth book in the series by author Justine Del Monte and Illustrator Brandon Chappell. It joins three previous books: "Drew's Dancing Drum," "Drew Meets Boo," and the highly acclaimed "Drew and the Cyber Bully."
In the new book, characters Drew and Boo adopt dogs from the local animal shelter and soon discover that pets need a lot of love, attention, and care. The story uses simple rhyming to educate and reinforce kindness and responsibility when caring for pets. The book teaches the reader that they can save the life of an animal through adoption and love, and that they should never bully others or their pets.
"I'm excited to be releasing the next book in the Drew Books series," says Del Monte. "Pet adoption and caring for pets is something that's important to many of us. This was a great way to highlight the topic and teach kids the importance and responsibility of caring for animals while also staying with the bullying theme of the other books."
Del Monte wrote the first book in the Drew Book series was she was just 11 years old for a fifth-grade writing project targeted toward first-graders. She picked the important topic of bullying because she felt children needed to start learning and understanding about bullying at an early age. Through Chappell's illustrations, the characters have come to life. KVCR-TV animated and produced the books.
What makes the books most unique is the apps and discussion points that come with the books. Two of the books have been turned into interactive apps that are available in three languages. The apps have been downloaded in more than 100 countries. The Drew Books, along with the apps and discussion points, can be utilized by parents, teachers, play groups, churches, and schools to teach children life lessons while having fun.
"As an educator and now a mentor educator for others in the teaching field, these types of books are what new generations of children need to help them understand and cope with things they are exposed to at young ages that their parents were not. Educators find it difficult to find simple and clear messages on a subject like cyber bullying, especially for English language learners that don't dominate the English language," says Nellie Brown, MSEd and Family Childcare Home Specialist, in a letter about her support for the Drew Books.
Both Del Monte and Chappell have been busy reading to students in classrooms around the country and giving interviews on public television and radio stations to promote awareness about bullying. The books have been highly successfully and well-received in the classroom, teaching an important message to young readers. To learn more or order the books, visit DrewBooks.com.
About Charter Road Productions, Inc.
Charter Road Productions, Inc., a nonprofit 501(c)3 performing arts organization, produces 3D animation, stage, film/video, and television productions that will inspire people to put their faith in God. For more information, visit ChaterRoad.org.
Publicity Contact:  Dione Dirito, 925-457-5261, dionedirito@icloud.com
Source: Charter Road Productions, Inc.
Share:
---
Categories: Books, Non Profit
Tags: adoption, Boo, dog book for kids, Drew, kids book, pbs, pbskids, pet book, pet care
---