The Data Activation Company, Innovaccer, Launches Its Pediatric Care Management Solution to Deliver Family-Centered Care, 365 Days a Year
The solution aims at building the information superhighway to give pediatric care the head start it needs.
Press Release
-
updated: Apr 22, 2019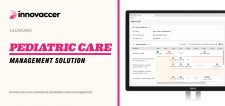 SAN FRANCISCO, April 22, 2019 (Newswire.com) - Value-based payment reforms have made quite an impact on U.S. healthcare, with broad political support and the growing adoption of these reforms in adult health care. However, these reforms are diffusing unevenly into pediatric healthcare. Medicare has led the healthcare industry as it shifts from fee-for-service to value-based care, but it has left children's healthcare organizations struggling to apply similar reforms to a very different population.
The quality measures, for starters, are often applied to the pediatric population, since pediatric-specific measures are not widely available. Additionally, to utilize the opportunity to lower costs and improve care for younger patients, organizations require data-driven insights. Another roadblock that comes to light here is the discrepancy and duplicate records that they have to maintain for newborn kids. Organizations need to access the right data from all the providers and share these bits across the network to understand the patients and their care needs.
Caring for kids can be delicate and it is important to have the family as a part of their care. Any broken piece of information or any complicated tech should not stand in the way, especially when looking after the impressionable pediatric population.
One of the biggest roadblocks that healthcare organizations face while managing the pediatric population is that children are emotionally and mentally more vulnerable as compared to the adult population. Thus, it is essential that pediatrics care organizations are empowered with technology best-suited to address the needs of such patients.
To assist pediatric care organizations in bringing together information that spans across multiple venues, clinicians, and stages of life, Innovaccer Inc., the leading San Francisco-based data activation company, today announced the launch of its Pediatrics Care Management solution specifically designed to bring the entire care network together to fulfill every child's needs.
"It shouldn't be a surprise that the care provided to a child is completely different from the one provided to a Medicare patient, and so should be the approach of providing care to them," says Paul Grundy, MD, MPH, FACPM, FACOEM, and Chief Transformation Officer at Innovaccer. "Innovaccer is revolutionizing the way we perceive pediatrics care. With its advanced AI-assisted approach, we plan to streamline the process for pediatric care organizations by ensuring that they are able to deliver family-centered care, anytime, anywhere."
The solution offers a focus on delivering family-centered care and effectively manage children's health across the continuum. With Innovaccer's Data Activation Platform, organizations can seamlessly update patient records to create unique EMPIs to ensure that every newborn has unique IDs. With its robust, AI-enabled patient-matching algorithms, the platform allows providers to flag any potential redundancy in the patient records with over 98 percent accuracy.
Innovaccer enables the providers and care teams to build specific care plans for each patient based on their unique clinical and social needs, demographics, among others. The solution also triggers automated and real-time alerts for appointments and vaccinations and it ensures that the entire care process is seamless for patients and providers alike with its automated worklists and appointment scheduling.
The solution provides over 40 HEDIS-certified pediatric measures that allow pediatric healthcare organizations to keep a close eye on the performance of every patient and triage them based on their utilization and risk scores. With the solution's real-time point-of-care alerts, providers can pinpoint and surface specific insights such as care gaps right within their EHRs.
Innovaccer's primary aim with this solution is to ensure that every patient remains connected to their care providers. The solution provides insights to patient families into available community resources based on location and requirements to assist them at every step. With the solution's patient engagement mobile application and group chat features for care managers and caregivers, providers can engage their patients with educational content to create awareness and enable timely reminders to ensure adherence to immunization calendars and follow-up visits.
"We understand how delicate caring for kids can be and with all these different challenges presenting themselves, we wish to build something that would really help everyone prepare for the future of healthcare and mold the progress of value-based care in a way that's pediatric-specific," says Abhinav Shashank, CEO at Innovaccer Inc. "We hope that our solution assists organizations in creating the information superhighway that is required to give their pediatric care the head start it needs."
To learn more about our Pediatric Care Management solution, click here.
About Innovaccer
Innovaccer Inc. is a leading healthcare data activation company committed to making a powerful and enduring difference in the way care is delivered. Innovaccer's aim is to make full use of all the data healthcare has worked so hard to collect by righting the wrongs of healthcare technology, doing away with long-standing problems and replacing them with ideal solutions. Its Gartner and KLAS-recognized products have been deployed all over the US across more than 500 locations, enabling over 10,000 providers to transform care delivery and work as one. Innovaccer's solutions have successfully activated data for several institutions, governmental organizations, and several corporate enterprises such as Mercy ACO, StratiFi Health, UniNet Healthcare Network, Catalyst Health Network, Hartford Healthcare, and Osler Health Network. Innovaccer is based in San Francisco and has offices all over the United States and Asia.
For more information, please visit innovaccer.com.
Press Contact
Sachin Saxena
Innovaccer Inc.
213-618-3678
Source: Innovaccer
Share:
---
Categories: Healthcare Technology
Tags: Care Management, Innovaccer, US Healthcare, Value Based Care
---