The Cost of Ballet vs. Low Income Families - Who Will Win?
Press Release
•
Sep 10, 2015
19 year old Ballet Dancer Creates Project Releve´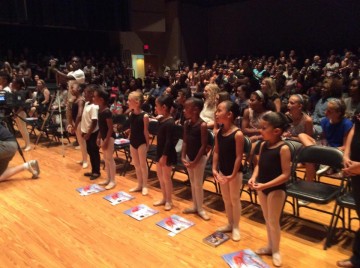 Jacksonville, Florida, September 10, 2015 (Newswire.com) - Former ballet dancer turned entrepreneur needs your help to fund "Project Releve´"
Raising $3,000 in 30 days isn't the most appealing notion to a 19 year old, who is passionate about ballet and creating awareness about the costs of ballet lessons and supplies to underprivileged girls and boys, but this young entrepreneur is willing to take the risk.
If you'd like more information about Project Releve´, or to schedule an interview with Leah Monet please email monetballet@gmail.com or send a Tweet @monet_ballet

Leah Monet Simpson, Artistic Director
After opening her ballet studio Leah Monet Simpson (19) noticed that most of her students come from a single parent family home. What's more she noticed that many of the parents would have a hard time paying tuition on lessons for their child each month. Leah Monet decided that there has to be something that she can do so that each child would not have to stop taking ballet lessons due to their parents financial situation. That's how Project Releve´was created.
Leah Monet Simpson wants to grant any girl or boy in need the chance to dance and also provide any supplies needed such as; leotards, tights, ballet shoes, costumes and more. She believes that dance would help struggling girls and boys gain self-confidence, self-discipline, and a sense of accomplishment. 80% of her current students are on scholarship and she would like to continue to offer low-cost or no-cost ballet classes.
Kickstarter campaigns operate under and "all-or-nothing" funding model so if Project Releve´does not reach its goal of $3,000 at the end of 30 days then Simpson will go home empty handed. Be sure to follow Monet School of Ballet on twitter @monet_ballet and Facebook or instagram to follow her progress and make sure to spread the word to your social networks. Consider donating just a $1 to help Project Releve´come to life.
Related Media
Tags