'The Comeback King' Teaches Americans How to Turn Setbacks Into Amazing Comebacks With His Story of Being Fired to Receiving the Presidential Lifetime Achievement Award
Press Release
•
Feb 14, 2023
Success Magazine named Dr. Willie Jolley 'The Comeback King' for his iconic work in helping Ford Motors to go from the brink of bankruptcy in 2006 to being able to reject a government bailout in 2009 and go on to billion-dollar profits. He continues to create incredible comebacks: from being fired from his nightclub singing job and replaced by a karaoke machine to being named 'One of the Outstanding 5 Speakers In The World' and now receiving The Joseph R. Biden Presidential Lifetime Achievement Award.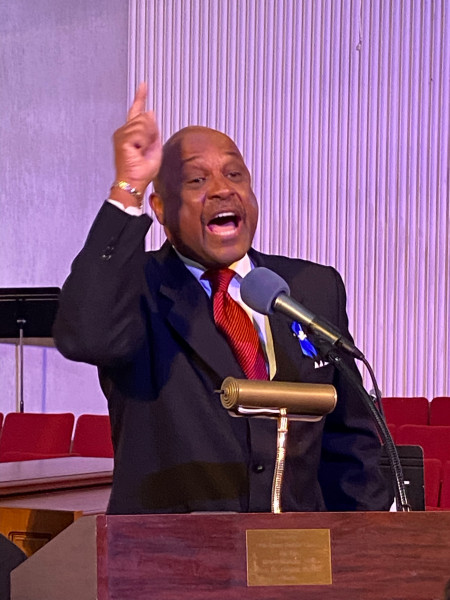 WASHINGTON, February 14, 2023 (Newswire.com) - Dr. Willie Jolley, Hall of Fame speaker, best-selling author, and Sirius XM and Radio One radio show personality, received the Joseph R. Biden Lifetime Achievement Award, a prestigious honor awarded to a select few Americans. Fellow recipients include Ambassador Andrew Young, former Attorney General Eric Holder and Tony Award-winning actress Melba Moore.
The ceremony was held at the historic Nineteenth Street Baptist Church in Washington, D.C., on Jan. 13, 2023. There were 40 honorees and Dr. Jolley was one of the only honorees asked to speak at the event. His speech has gone viral for its incredibly powerful impact.
Footage of Dr. Jolley's soul-stirring acceptance speech can be seen here.
This honor comes on the heels of Dr. Willie Jolley being the special keynote speaker at the 30th Annual HOPE Global Forum in Atlanta, Georgia. Other presenters included Bishop TD Jakes, Walmart President and CEO Doug McMillon, Delta Airlines CEO Ed Bastian and iHeart Media CEO Bob Pittman.
In addition to his speaking, Dr. Jolley is also the host of the wildly popular Willie Jolley Wealthy Ways radio show on Sirius XM and iHeart Radio podcast, with guests such as billionaire philanthropist David Rubenstein.
Dr. Jolley continues to set the world on fire with his impact on helping companies to turn their setbacks into comebacks by speaking and with sponsorship partnerships. He has helped many major organizations like Walmart, Verizon, McDonald's, Comcast, Coca-Cola, Johnson & Johnson Dubai, and Prudential Australia.
His powerful speeches hit home for corporate audiences looking to grow revenues, develop a winning attitude, improve productivity, and outperform the competition. His motivational topics include leadership, change management, team building, customer service and the secrets to turn setbacks into amazing comebacks with an attitude of excellence.
In addition to being a popular speaker and media personality, Dr. Willie Jolley is the author of the global best-selling books A Setback Is a Setup For A Comeback, Turn Setbacks Into Greenbacks, An Attitude of Excellence and It Only Takes A Minute To Change Your Life. He also hosts a popular weekly marriage show with his wife based on their popular book Make Love, Make Money, Make It Last!
As a global thought leader, Dr. Jolley is also a noted Black history maker. He was named "A Black History Maker of Today" by McDonald's. Dr. Jolley was the first African American president of the Washington, D.C., chapter of the National Speakers Association (NSA) and became the first African American elected to the national governing board of NSA. He also is a former chair of the Speaker Hall of Fame Leadership Committee, again the first African American to hold that position.
Please direct all media interview requests or information on Dr. Jolley's speaking availability or sponsorship opportunities via email to info@williejolley.com or via telephone at (202) 723-8863. For more information about Dr. Willie Jolley, please visit www.winwithwiilie.com.
Source: Willie Jolley Productions, Inc.
Related Media