The Buckets Checklist: The New DNA in the Evolution of Productivity and Performance
Press Release
-
Aug 29, 2016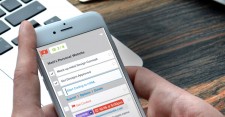 Seattle, WA, August 29, 2016 (Newswire.com) - ​​Seldom does a moment pass in the mind of Mike Smutka, co-founder of Buckets.co, where the mission of his company doesn't stir a sense of duty toward the importance of 'The Buckets Checklist'.
"What we're doing here is creating a backbone upon which the success of people's personal and professional lives are carried", offers a reflective Smutka.  "On the surface, sure, it sounds dramatic.  But one doesn't have to dig too deeply to comprehend the high stakes of rolling the dice with blind processing and laissez faire approaches to productivity.  In today's world, we all need a behavioral shift toward a supportive and engaging checklist."  
For Smutka, any semblance of drama met reality after reading Dr. Atul Gawande's The Checklist Manifesto: How to Get Things Right. The book highlights the poignant consequences of adhering to systems centered on solitary expertise and hierarchical reliance, and offers a compelling argument for checklist-centric professional and personal behaviors.  It serves as the motivational bible of the Buckets team.  
Says Smutka, "When a person or team begins to understand that the individual's talent set is significantly leveraged with the latticework of a well directed and dynamic checklist, good things happen on a consistent basis. Buckets is all about recruiting a broad canvas of users into the fold where goals can be more effectively realized with impressive efficiency."
The Buckets office in West Seattle has a wall plastered with inspirational pieces of art and quotes that reflect the culture of this quickly growing and evolving company.  One of those quotations comes from Dr. Gawande himself:
"Checklists seem to provide protection against such failures. They remind us of the minimum necessary steps and make them explicit. They not only offer the possibility of verification but also instill a kind of discipline of higher performance."― Atul Gawande, The Checklist Manifesto: How to Get Things Right
Smutka points out, "Our team at Buckets walks the walk and talks the talk. Why?  Because we believe profoundly in the successful empowerment of people's lives by adopting the Buckets strategy, starting right here at ground zero. When adhered to, simplicity and clarity rise to the top for the Buckets user. This gives our entire team an enormous amount of satisfaction."

While Smutka wouldn't open up completely about the company's next steps, he offered that "the simplicity of Buckets goes hand in hand with our goal for universal inclusivity and broad empowerment of every Buckets user. The world is full of amazing intentions that only get to the 25 yard line and find themselves punted away. Buckets wants to drive everyone to the goal line so they can walk these intentions into the end zone amidst a cheering crowd. We are fixed on doing just that."   
Contact:  Paul Huddleston, Media Relations
Email: paul@buckets.co
Phone: 206-271-5861
Source: Buckets.co
Share:
---
Categories: Business Development, Business Technology, Project and Program Management, Business Process Management (BPM), Enterprise Content Management (ECM)
Tags: Checklist, Gawande, Kanban, Productivity, Project, Project Management, SAAS, Software as a Service
---