The Blue Devils Play System Blue Natal Professional Percussion
Press Release
•
Jun 29, 2016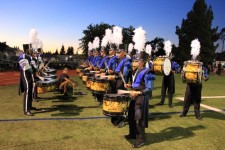 Kansas City, MO, June 29, 2016 (Newswire.com) - It is with great excitement that we announce the Blue Devils will perform on System Blue Natal Professional Battery Percussion this 2016 season. The 17-time Drum Corps International world champions and 15-time percussion champions will march System Blue Snares, Tenors, and Basses.
When experiencing the System Blue Natal drums for the first time, the drum line immediately fell in love with the new warm articulate sound, the sleek design, and the lightweight of the drums. The snare line has noticed that much stress and fatigue has been removed from their hands. Given the demand of the marching activity, this is a feature that we are particularly grateful for. Health and wellness is so very important to all of us.
"We are beyond excited about this," remarks Scott Johnson, long-time percussion caption head of the Blue Devils, Natal and System Blue designer. "We have been working on these drum designs for almost ten years, but I have been envisioning drums like these since I was four years old. It really is a dream come true for all of us."

Scott Johnson, Blue Devils Percussion Caption Head and System Blue Natal Percussion Designer
"We designed these drums for everyone, says Al Murray, head of product design for System Blue Natal. "These are musical athletes who perform and execute demanding musical and physical passages. We wanted to create marching drums that would allow everyone the opportunity to achieve excellence. The featherweight drums allow anyone from child to adult, male or female the chance to reach their greatest potential."
The Blue Devils will be the very first ensemble to perform on the System Blue Natal Professional Drums. The corps has already hit the road on their 2016 DCI summer tour. They will debut the drums in Fresno and Stanford this Friday and Sunday respectively. Their program entitled As Dreams Are Made On is a modern day homage to Shakespeare's play The Tempest. The show features the battery in several remarkable passages that allow the audience to hear and see the new drums.
The Blue Devils will also be a huge part of the System Blue Camp experience this summer. Event stops include Southern California, Texas, Minnesota, and more. Attendees will have the opportunity to not only gain an education from the Blue Devils Percussion staff but also step into the line with the Blue Devils drum line as well as experience the new System Blue Natal drums for themselves. We encourage you to come check out the drums, see all the features, talk to the Blue Devils drum line, staff, and System Blue team, and be a part of our System Blue family.
For more information on System Blue products and events, visit systemblue.org
Source: System Blue
Related Media
Tags
Additional Links