The Bili Project Foundation to Benefit From Ride for Dad's Golf Tournament
Monday, April 22, 2019, at Serrano Country Club
Press Release
-
updated: Apr 9, 2019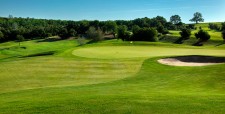 EL DORADO HILLS, Calif., April 9, 2019 (Newswire.com) - The Bili Project Foundation to benefit from Ride from Dad's Golf Tournament slated for Monday, April 22, 2019 at Serrano Country Club. The Bili Project Foundation focuses on cancers of the bile duct, gallbladder and liver cancers (Hepatobiliary cancers). Hepatobiliary cancers are the third-leading cause of cancer deaths worldwide.
This year the presenting sponsor is Mercedes Benz Dealership of El Dorado Hills. The golf tournament is in its second season at Serrano and has garnered the support of local corporate sponsors, individual golfers and those with a heart to support The Bili Project Foundation.
Ride for Dads is a group of local cyclists who train together and cycle, run, swim or play golf to raise funds to fight cancer. This year, the team was inspired by their longstanding fellow leader, volunteer, cancer warrior and cycling teammate, Kathy Barboza.
Barboza is a committed Intel employee and young activist who was fully engaged in the fight against cancer before she herself was stricken a few days before Christmas in 2017.
"I was in the middle of a Target run when I got "the call," said Barboza. "It took every ounce of strength to hold it together and get out of the store before completely losing it in public. I started to eat more organic foods and was exercising regularly. It made no sense, I had no symptoms and felt better than I had in years."
Cancer does not discriminate on age, lifestyle, location or timing. In Kathy's case, she drove home, unpacked the car and began to consider how to realign her life and prepare for a myriad of appointments, doctors, scans, tests and treatments.
The funds raised by this year's Ride for Dads Golf Classic for The Bili Project Foundation will go to the University of California, San Francisco (UCSF), one of a select few of the leading global research institutions addressing these cancers.
"We are honored to rally a local group of incredible people and organizations to fund this much-needed research as we work toward a cure to support individuals with these cancers," said Susan Acquisto, co-founder of The Bili Project Foundation. "Our supporters are working hard to fund treatments and a cure for this tough cancer."
In addition to the golf tournament, a group of local cyclists are riding around Lake Tahoe in America's Most Beautiful Bike Ride to help fund the Kathy Barboza Young Investigator Award to support the dedicated time and resources for physician researchers to study treatments for curing these cancers.
"To say this hit me like a ton of bricks at Target is an understatement," said Barboza. "But I knew there was much I could do to help myself and others. We all have ways to help build awareness, fund and create a cure for this disease. That's my sole focus and life's work. This is truly a hopeful cause."
"The Ride for Dads Golf Classic provides an opportunity for the community to come together to help fight this devastating disease," said Von Housen Automotive Group Owner and CEO George Grinzewitsch, Jr. "Our family of Von Housen Mercedes-Benz dealerships is proud to partner with the community and Ride for Dads to support the work of The Bili Project Foundation." As part of their sponsorship, the giveaway for the hole in one contest is a 2019 Mercedes Benz A 220 4matic Sedan.
The Kandris Family Foundation is also supporting the tournament as a Gold Sponsor to honor Kathy Barboza.
ABOUT THE TOURNAMENT
Golfers participating in the Ride for Dads Mercedes-Benz Dealer Championship will compete for two spots in the Mercedes-Benz Dealer Championships Western National Final hosted at the extraordinary Pinehurst Golf Course in North Carolina, and an opportunity to win the newly released Mercedes-Benz A 220.
Winners from the Western National Final, to be held at the Pinehurst Resort in North Carolina Oct. 23-26, 2019, will advance to represent Team USA at the 2020 Mercedes Trophy World Final in Germany.
Individual golf registrations, foursomes, and sponsorships are still available. For more information, please visit www.ridefordads.com or contact mpallone@me.com.
ABOUT VON HOUSEN AUTOMOTIVE GROUP | vonhousen.com
Von Housen Automotive Group operates three Mercedes-Benz dealerships in the greater Sacramento area including Mercedes-Benz of Sacramento, Mercedes-Benz of Rocklin and Mercedes-Benz of El Dorado Hills. Established in 1958, the Von Housen Automotive Group has been distinguished for numerous "Best of the Best Awards" by Mercedes-Benz of North America. To learn more, visit www.VonHousen.com or call (888) 388-9384.
ABOUT THE BILI PROJECT FOUNDATION
The Bili Project Foundation's mission is to reduce the incidence and improve the outcome of Hepatobiliary cancers, which are cancers of the liver, gallbladder or bile ducts (Cholangiocarcinoma). We promote and fund research to identify early signs and symptoms as well as curative treatment options for this silent, fast-acting group of cancers. www.thebiliproject.org
ABOUT RIDE FOR DADS
Mary Caulder and Valerie Antkowiak lost their fathers to cancer. They stood by their dads as they battled with the disease for many years consisting of both triumph and despair. The Ride for Dads team was formed by these two women, as well as Mark Pallone and Laura Hollis. Together, the team is a group of athletes dedicated to raising money to benefit cancer research, in honor of Jack Caulder and Jerry Antkowiak. In 2018, the team raised $201,790.17 for the Leukemia & Lymphoma Society.
Source: The Bili Project Foundation
Share:
---
Categories: Golf
Tags: bile duct cancer, cancer, charity fundraiser, charity golf tournament, cholangiocarcinoma, gall bladder cancer, liver cancer, the bili project foundation
---
Related Files
Additional Links