The Armenian Genocide One Hundred Years Later, a Feature Film in Development.
Feature film in development by Celestial Cinema Productions shows the triumphs of Armenian Immigrants.
Press Release
-
updated: Nov 11, 2019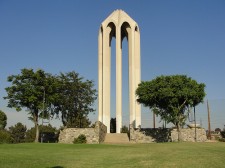 MONTEBELLO, Calif., November 11, 2019 (Newswire.com) - The U.S chamber of congress recently passed a vote recognizing the Armenian Holocaust as Genocide. The following is a historical record of the past hundred years leading to this point in time. A movie titled Insight Hell on Earth, currently slated for development, will give audiences a perspective of the Armenians' journey from Genocide to WW2 and ultimately to overwhelming success in America.  
1.5 million Armenian men, women and children were slaughtered by the Turks in 1915. At the time the Ottoman Empire was starting to lose territories on the outskirts of its empire. In a desperate attempt to save the empire from collapse, Turkish leaders decided to take desperate measures and initiated an ethnic cleansing campaign. Hundreds of the thousands of Christians, mostly Armenians, Greeks and other Christian nationalities were gathered up and marched out of their cities into the desert areas. Most died from starvation, others shot, hung or butchered by the Ottoman Army soldiers.
Surviving Families were forced into Diaspora. Their homes were destroyed, family members separated and forced to move to different countries. Some moved to Persia (Iran), Lebanon, Syria, Georgia, Greece and Russia. Since Russia had the best economic opportunities, thousands of Armenians ended up settling down in the Krasnodar region of Russia.
Fast forward 27 years and these same people are now facing World War 2. Hitler's war machine has launched at full steam. Now these same people that escaped genocide are again being gathered together by the Nazi army to be used as slave labor.  Thousands of Armenians are forced into back-breaking work in horrible conditions.
Fast forward 75 years and these same Armenian survivor families are now living the American Dream!
An American Immigration Success Story.
Building a community that creates churches, schools, monuments, hotels and prosperous businesses is no small task. But creating offspring who become actors, doctors, lawyers, journalist and political figures is even a greater one. This is a story of a group of refugees who did just that!
At the end of WW2, 3,000 Armenian slave labor workers were assigned by the Allies to a displaced persons' camp located in Stuttgart, Germany. In order to gain a better perspective of this project go to:
https://www.insighthellonearth.com
About The Author: Joe Murkijanian has over 35 years' experience in film and television production. He is a screenwriter, actor, producer, and director of photography. His credits can be viewed at IMDB.com. He is also proud to be a descendant of the Armenian DPs.
Source: Celestial Productions Inc
Share:
---
Categories: International News
Tags: American, Armenian, film, Genocide, history, imigration, movies, news
---
Related Files
Additional Links