The American Academy of Stem Cell Physicians is Hosting a Scientific Congress and Workshops Focused on Regenerative Medicine
The conference, held Aug. 2-4, 2019 in Miami, features hands-on training and is holding qualifying exam for board certification.
Press Release
-
updated: Jul 30, 2019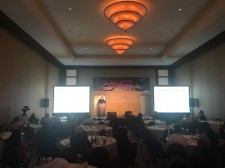 MIAMI, July 30, 2019 (Newswire.com) - The American Academy of Stem Cell Physicians (AASCP) is nearing capacity on its upcoming Aug. 2-4 Scientific Congress and Workshops and is encouraging medical practitioners with an interest in regenerative medicine to register. The event will be held at the Hyatt Regency, located at 400 SE 2nd Ave. in Miami, Florida. In addition to the formal training, the event will also provide social events so that attendees can network with leading physicians and pioneers from the fields of stem cell, live cell and regenerative medicine.
Practitioners turn toward regenerative medicine when they realize that conventional approaches will not adequately serve their patients or will unnecessarily expose patients to invasive surgeries and procedures. They frequently seek alternative medicine to treat diseases like Alzheimer's and turn to non-surgical options whenever possible. Training, like the upcoming AASCP conference, is necessary for integrating these alternative medicines into healthcare practices.
Scott Gottlieb, M.D. and Peter Marks, M.D., Ph.D. have noted, "The FDA is witnessing a surge of cell and gene therapy products entering early development, evidenced by a large upswing in the number of investigational new drug (IND) applications."
The AASCP conference offers medical practitioners an opportunity to learn how to safely integrate stem cell techniques into their practice and provides a wide range of workshops from experts in the field in their respective fields. In order to fully prepare medical professionals for advances within this rapidly evolving field, an AASCP August 2019 interactive workshop will also provide direct hands-on experience on both live patients and cadavers. The interactive workshop will offer a small participant-to-instructor ratio and a customized curriculum focusing on developing hands-on skills.
The AASCP August 2019 Workshop will count for eight CME credits towards a physician's license. This is also the first time qualified practitioners will be able to take the board certification exam at the end.
Dr. A.J. Farshchian, a spokesperson for AASCP, explains, "The exam questions were written by experts, such as Dr. Joseph Purita. The written exam will be followed by an oral exam. At that time, qualified physicians will be considered a diplomat of the board. This process is supervised by eight qualified physicians and educators, including our current acting president Dr. Martin Dayton."
Medical professionals interested in advancing their knowledge of regenerative medicine and the field of stem cells can register for the conference. For assistance, Bernard Lessa-Bastos can be contacted at 305-891-4686.
About AAOSCP
The American Academy of Stem Cell Physicians (AASCP) is an organization created to advance research and the development of therapeutics in regenerative medicine, including diagnosis, treatment, and prevention of disease related to or occurring within the human body. The AASCP aims to serve as an educational resource for physicians, scientists and the public. To learn more, visit AASCP.net.
Source: The American Academy of Stem Cell Physicians
Share:
---
Categories: Healthcare
Tags: alternative medicine, Alzheimer's, continuing education, healthcare, Live cells, medical research, non surgical treatments, regenerative medicine
---