The 40-Mile Challenging Bicycle Race in Northern Vermont Rasputitsa Spring Classic Will Be Held April 21
More than 1300 riders have signed up to ride the muddiest, coldest most rural section of Vermont.
Press Release
-
updated: Apr 12, 2018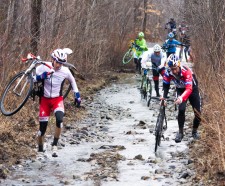 BURKE, Vt., April 12, 2018 (Newswire.com) - Rasputitsa Spring Classic, held in Northern Vermont, is slated to be the race's biggest year yet. The five-year-old race, started by Anthony Moccia and Heidi Myers, will bring 1,300 riders together to ride the muddiest, coldest and most rural section of Vermont on April 21, 2018. The name of the race, Rasputitsa, is a Russian word for the mud season when roads become difficult to traverse.
Back in 2013, Moccia and Myers decided to create a gravel road race in the most untouched, remote section on Vermont known as the Northeast Kingdom. Today, Rasputitsa has grown to be one of the best Vermont gravel road races, which attracts riders from more than 19 states and six provinces.
Since its launch, the race has grown its participation by more than 350 percent and has donated more than $10,000 to charitable causes. It's been named "Best Cycling Event in the Northeast" by Competitor Magazine and listed in "7 Challenging, Fun Spring Classics to Ride" by Bicycling Magazine. They also received a mention in Sports Illustrated – "The rise of cycling's gravel grinders: Ruthless terrain, camaraderie, and dirt."
"It's exciting to see how much the Rasputitsa Spring Classic has grown and the camaraderie of bringing these riders together, "says Moccia. "Rasputitsa has been a very successful effort to unite cyclists, bring economic opportunity to a remote area of Vermont, and give back to growing the sport of cycling with every dollar we profit."
Rasputitsa 2018 will also see pro cyclists including Allison Tetrick, Tim Johnson, Ted King, Jeremy Power, Anthony Clark, and Lyne Bessette compete in the race. Sponsors for this year's race include Specialized Bicycles, Garneau, Clif Bar, Woodchuck Hard Cider, Julbo, Colavita, Bialetti, and more.
The race runs from 9:00 a.m. to 3:00 p.m. with the start at Sherburne Base Lodge at 223 Sherburne Lodge Road, East Burke, Vermont. Friday, April 20 from 5:00 p.m. to 9:00 p.m., the event will host a welcome party, early packet pickup, and David Bowie concert at Burke Mountain Hotel & Conference Center.
For more information about the Rasputitsa 2018, visit RasputitsaGravel.com.
About Rasputitsa
Rasputitsa is an annual gravel road race that was launched in 2013. The ride covers 40-miles in Northern Vermont. For more information about the Rasputitsa 2018, visit RasputitsaGravel.com.
Source: Rasputitsa
---
Categories: Cycling
Tags: bike, Cycling, gravel, Professional Cyclists, Vermont
---