The 10 Year Plan - This Year's Most Anticipated LGBT Comedy Available Now on Stream
Press Release
•
updated: Jun 2, 2015
Director JC Calciano and dotstudioPRO team up to release the 10 year plan - this year's most anticipated comedy about friendship and the time it takes to fall in love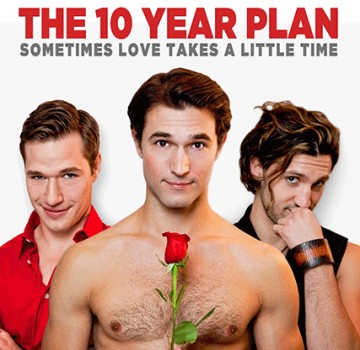 Los Angeles, California, June 2, 2015 (Newswire.com) - ​Watch the film here:
http://www.10yearplanmovie.com/watch
The dotstudioPRO team and Cinema175 are excited to be working together in releasing The 10 Year Plan on VOD in the US and worldwide, excluding Canada.
The 10 Year Plan is a classic romantic comedy that tells the story of Myles and Brody, two friends who make a plan to be together if neither finds love in ten years' time. Two months shy of their deadline, both friends try to avoid ending up as each other's last resort. The film is written and directed by Cinema175's JC Claciano who is also the creator of YouTube's most steamy series Steam Room Stories.
dotstudioPRO makes it easy to launch and maintain on-line digital networks that monetize existing and new video content seamlessly. For the first time, content creators have complete control of their own brand - managing all creative, distribution and monetization channels and marrying the world of video ad-serving and video on demand in one platform.
Also available through VOD are Cimema175's critically acclaimed films:
Is it Just Me? - A socially shunned columnist finds his romantic match on-line, but messaging under the wrong account causes his sleazy roommate's picture to be forwarded, creating an identity crisis of hysterical proportions.
eCupid - A gay man nearing 30 in a 7-year relationship rut, taps into an otherworldly Internet app that starts omnisciently controlling his life and teaches him an important lesson about love.
"We are extremely excited to be working with Cinema175 and JC Calciano. The 10 Year Plan is not only this years hottest Romantic Comedy but the quality of work JC puts out into the world as a creative is wonderful. Our platform is built to empower creatives like him to share their content directly to his audience. Its exciting to know that people can watch The 10 Year Plan directly through the film's website and facebook fanpage and that the purchases for the movie goes directly to the filmmaker."

"I was excited to find a platform like dotstudioPRO to stream my films world-wide. Not only can I control who sees my films in what countries, but I'm able to manage every aspect of the on-line distribution with them. I've researched a lot of digital platforms like Vimeo, YouTube, Distribber and others, but nothing was more robust, cost efficient and allowed the freedom that dotstudioPRO did. It's also the only player that I've found that allows native facebook embedding and to me, that's huge!
About The 10 Year Plan
The 10 Year Plan was the festival sensation of 2014. Playing over 50 International festivals and taking home over 10 Audience choice/Best Picture awards, fans from every country come out to see this sweet and funny classic romantic comedy.
Log Line:
Two best friends, who are complete opposites when it comes to their taste in men, make a plan to be a couple if neither one has found the right guy in ten years. But when their arrangement is almost due, both friends try to do whatever it takes to avoid becoming the other's last resort.
Short Synopsis:
Myles, a successful lawyer as well as a hopeless romantic, wants nothing more than to find the man of his dreams. His best friend Brody, a handsome Los Angeles police officer, sleeps with every man he meets in an attempt to avoid feeling unloved. Fearing what will become of them when they get older, the two friends make a plan: to be a couple in ten years if neither one has found true love. Ten years later. Nothing has changed. Myles is still being dumped on a weekly basis and Brody is jumping from bed to bed searching for a connection. A month before Myles' 35th birthday, they both realize that their arrangement is almost due. Neither wants to hurt the others' feelings by telling them they aren't interested "in that way", so they set forth to make sure that the other is in a relationship. Myles and Brody quickly search for love for the other. In the process they start to see each other in a new light, until Myles finds the man of his dreams. With Myles convinced he's found the one, Brody is secretly relieved that he's dodged the bullet of having to walk down the aisle together with Myles. But his excitement is short lived as he quickly realizes how empty and lonely his life is without Myles in it. All the sexy boys in West Hollywood can't see to satisfy the emptiness Brody feels without Myles. He decides that he needs Myles back in his life, but Myles has moved on and no longer wants Brody in his.
PRESS PACKAGE: http://www.10yearplanmovie.com/press-kit
About Cinema 175
Founded in 2009, Cinema175 launched with the feature film, Is It Just Me? This romantic comedy played over 50 film festivals internationally, won multiple best picture awards and became the #1 selling gay title for TLA Releasing for 2010. Is It Just Me? Set a new benchmark for gay indie cinema. Immediately following success of Is It Just Me?, Cinema175 began production on Steam Room Stories, a web series on YouTube. Each webisode features a two-minute comedy sketch starring hot men in a steam room. Today, Steam Room Stories is a profit generating YouTube channel with over 28 million views and over 65,000 subscribers. In 2012, Cinema175 released eCupid, a high concept romantic fantasy starring a talented cast of newcomers and iconic Hollywood star, Morgan Fairchild. This award winning comedy played in over 60 international film festivals, won four best picture and audience choice awards and became one of the best selling LGBT titles of 2012. eCupid's popularity as a film inspired the creation of an actual iPhone app named eCupid. This app, featuring Morgan Fairchild, like the movie helps them find their true love.
About dotstudioPRO
dotstudioPRO provides management, monetization and tracking tools that help content creators earn meaningful revenue through their own branded applications across social media and connected platforms, all controlled through one dashboard. dotstudioPRO makes it painless to distribute and monetize video ubiquitously across owned and operated branded environments on various platforms such as Roku, Smart TVs , Facebook, mobile, and microsites. Content owners can choose a combination of VOD offerings (AVOD, TVOD, SVOD) to monetize their content. Currently, content creators, broadcasters, film distributors and content aggregators are using dotstudioPRO.
Contact
For more information, or to schedule an interview, contact:
Selena Paskalidis – selena.paskalidis@dotstudioz.com 778-808-7089
JC Calciano - jc@cinema175.com 323-207-6654
Related Media
Related Files
Additional Links