Testimonial Builder, the Premier Mobile App for Filming and Syndicating Video Reviews, Announced That Greg Gifford Has Been Elected to Its Board of Advisors
Press Release
•
updated: Nov 1, 2017
SEO expert Greg Gifford joins advisory board of video testimonial company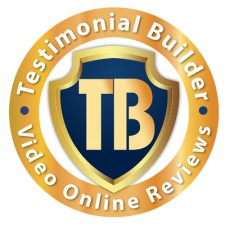 BALTIMORE, November 1, 2017 (Newswire.com) - Testimonial Builder, the premier mobile app for filming and syndicating video reviews, announced that Greg Gifford has been elected to its Board of Advisors. Greg is recognized internationally as a leading SEO expert.
"Greg is undoubtedly the number one SEO guy in the auto industry and probably one of the best in any field," said Testimonial Builder Founder and President Peter "webdoc" Martin. "Having him on our board and involved in helping us continually improve our product is a huge win for the company and more importantly our clients who will ultimately benefit from his expertise."
I was immediately impressed with the innovative Testimonial Builder app and how easy it made it to create and publish content. I saw a product that was needed in the marketplace and I'm honored to be joining their board.

Greg Gifford, Director of Search and Social at DealerOn
Greg Gifford is the director of search and social at DealerOn, a software company that provides websites and online marketing to new car dealers all over the United States. He has over 16 years of online marketing and web design experience, teaching thousands of small business owners and marketers how to get their sites to show up higher in local search rankings.
Earlier this year Greg spoke at Brighton SEO (U.K.'s biggest search marketing conference). He will be speaking at SearchCamp in December 2017 and will be the keynote speaker at SMX Munich (Europe's biggest search marketing conference) in the spring of 2018.
"I was immediately impressed with the innovative Testimonial Builder app and how easy it made it to create and publish content. I saw a product that was needed in the marketplace and I'm honored to be joining their board," said Gifford. "Video has a huge impact on SEO and when I saw Testimonial Builder I knew it was a winner and I wanted to be a part of it."
The Testimonial Builder app is designed to capture the true excitement of a happy customer in a way that written reviews can't match. That experience is then syndicated and used to boost a business' SEO via YouTube and Google's audio-scanning technology.
Testimonial Builder makes it possible for every salesperson to use their smartphone to create their own authentic video marketing material. The salesperson follows a customized script on the teleprompter that incorporates appropriate keywords for SEO.
"Greg is a pioneer in the SEO world and we are excited to welcome him to the board," said Philip Zelinger, investor and board member of Testimonial Builder. "With him on the team, we believe we will be able to help improve the SEO relevance of our testimonial videos. His expertise will be extremely valuable to our clients."
The Testimonial Builder app uploads videos in real time and emails the video link directly to the customer, so that they can share it with their friends while they are still excited. By incorporating Testimonial Builder into the selling process, each closed sale becomes an opportunity to earn referral business.
The average Facebook user has over 350 friends (Statistica) and the app makes it easy for them to share their testimonial on Facebook and other social networks including Twitter and Google+. In addition, they can also email or text the video link to their friends, helping the business reach a large local audience at no cost.
Digital video is widely recognized as one of the fastest-growing media channels and it is expected to continue its expansion and reach. In a Hubspot survey, researchers found that 90 percent of consumers use product videos to make a purchase decision and 80 percent of viewers recall a digital video they have viewed in the past 30 days. In a digital market saturated with banner ads, pay per click flashes and a revolving Facebook News Feed, video stands out and makes a lasting impression.
The mobile video audience is becoming increasingly relevant. YouTube projects that mobile video consumption will continue to grow at a rate of 100 percent annually. Hubspot reports that 92 percent of mobile video viewers are likely to share the video with a friend. Testimonial Builder enables businesses to harness the power of organic sharing and build a positive reputation.
The Testimonial Builder app is available as a free download on the App Store and Google Play Store. Users can load up to seven video testimonials with the free version. Testimonial Builder is available for any business looking to improve its online presence and share video testimonials.
The company plans to expand into other industries including: automotive repair, heavy trucks, health and fitness, hospitality, medical, dentistry, service, retail, professional services and real estate.
To learn more about the app and program, visit www.testimonialbuilder.com.
About Testimonial Builder, Inc.
Testimonial Builder assists businesses in digital marketing sectors including online reputation, video syndication, social media, consulting, training and customer satisfaction. Testimonial Builder enables salespeople to record a customer testimonial at the time of sale when they are most excited and then automatically promote the online video testimonial.
Businesses can reach and acquire new customers with video testimonials. Once uploaded, the business can showcase video testimonials on social channels or websites and can link them to any email or digital marketing collateral. This integrated and automated program improves business' online reputation and SEO while providing an interactive social media experience for customers resulting in increased sales.
Media Relations Contact:
Peter "webdoc" Martin
410.296.2343 ext: 101
954.205.7716 Cell
pmartin@testimonialbuilder.com
Source: Testimonial Builder
Related Media