Terradyne Expands Law Enforcement Presence in the US
Press Release
-
updated: Sep 5, 2018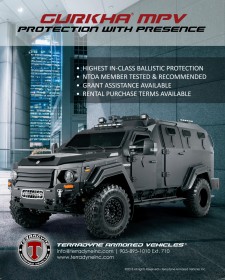 NEWMARKET, Ontario, September 5, 2018 (Newswire.com) - Terradyne Armored Vehicles Inc. is a global leader in armored tactical vehicles offering the highest protection level in its class. The value of a protected vehicle is becoming ever more evident to law enforcement agencies as gun violence and the fatalities of law enforcement officers have been steadily on the rise. An average of 150 police officers were killed in the line of duty each year to date since 2014 in the United States, according to the National Law Enforcement Officers Memorial Fund officer fatality data. The outcome of police response to high-risk situations involving firearms is unpredictable and an armored vehicle allows officers to approach a dangerous situation with confidence afforded by protected cover, increasing the probability of diffusing a tense situation.   
The general public will start to take notice of added protection in the form of Terradyne vehicles added to police vehicle fleets. Law enforcement agencies, including Boulder Police Department and Metro Washington Airports Authority Police Department (Reagan National Airport and Dulles International Airport), recently tasked Terradyne to supply tactical vehicles that will be used by their highly specialized SWAT operators. The GURKHA was chosen over competitor vehicles for several reasons, including ballistic protection capability, vehicle performance, reliability and overall design. Terradyne vehicles will be on display at upcoming events including TacOps East in Arlington, Virginia, and the National Tactical Officers Association tactical conference in Milwaukee, Wisconsin.    
Here is what a recent customer had to say about the Terradyne GURKHA:
"After extensive field testing of the vehicle and ballistic testing with armor-piercing rounds, we found that the Terradyne Gurkha exceeded our expectations. The armor stood up to multiple hits from AP rounds." -  Commander Greg LeFebre, Boulder PD SWAT
The GURKHA variants are intended to serve different end-user applications, including law enforcement, border patrol, protection of critical infrastructure and private security details.       
To contact a Terradyne representative, please call 905-895-1010 or email info@terradyneinc.com.
Source: Terradyne Armored Vehicles
Share:
---
Categories: Law Enforcement, Automotive
Tags: armored vehicle, automotive, law enforcement, police, sheriff, swat, tactical
---