TENTEN Wilshire: Spotlight on Local Defense Attorney
Press Release
•
updated: Oct 24, 2017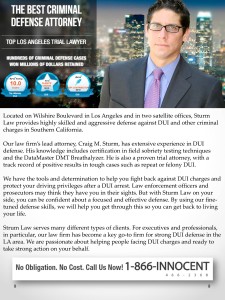 Los Angeles, California, October 24, 2017 (Newswire.com) - TENTEN Wilshire strives to bring tenants closer to the best of local businesses. This month's local featured businesses:
Sturm Law—a top Los Angeles trial lawyer, specializing in DUI defense. Located on Wilshire Boulevard in LA, and in two satellite offices, Sturm Law provides highly skilled and aggressive defense against DUI and other criminal charges in Southern California.
The firm's lead attorney, Craig M. Sturm, has extensive experience in DUI defense. His knowledge includes certification in field sobriety testing techniques and the DataMaster DMT Breathalyzer. He is also a proven trial attorney with a track record of positive results in tough cases such as repeat or felony DUI. Sturm Law has the tools and determination to help you fight back against DUI charges and protect your diving privileges after a DUI arrest. Law enforcement officers and prosecutors may think they have you in their sights, but Sturm Law brings you a focused and effective defense you can be confident about. Using their fines-tuned defense skills, they will help you get through the experience so that you can get back to living your life.
Sturm Law serves many different types of clients. For executives and professionals, the firm has become a got-to in the LA area. They are passionate about helping people facing DUI charges and are ready to take strong action on your behalf.There is no obligation and no cost to call. If you feel you need the help of Sturm Law, call 1-866-INNOCENT. 866-466-2368
Neha R. Shah
Events & Production Manager
neha@amidigroup.com
Direct: 213-785-5606
www.1010wilshire.com
http://www.1010wilshire.com/fb/
Source: TenTen Wilshire