TENTEN Wilshire Announces Strum Law as Its Featured Local Business of the Month
Press Release
•
updated: Jun 18, 2019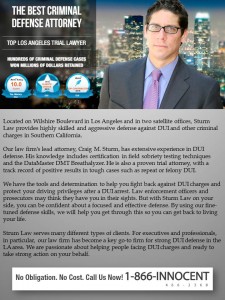 LOS ANGELES, June 18, 2019 (Newswire.com) - ​​The management of TENTEN Wilshire is always striving to bring the property's tenants information about the best local businesses in the area. Every month, it features a local service provider or other business that works hard to provide the best of L.A. right nearby TENTEN. This month's local featured business is Strum Law.
Strum Law is a top-rated Los Angeles legal practice, specializing in trial representation for DUI defense. Strum law is located on Wilshire Boulevard, not far from TENTEN Wilshire. The firm also operates two satellite offices as well. The attorneys of Strum law provide highly aggressive and expertly skilled defense for their clients in cases primarily involving DUIs, but also other criminal charges.
The firm's senior partner, Craig M. Sturm, has extensive experience in DUI defense. Knowledge includes certification in field sobriety testing techniques and the DataMaster DMT Breathalyzer. A proven trial attorney with a track record of positive results in tough cases, such as repeat or felony DUI. Sturm Law has the tools and determination to help them to fight back against DUI charges and protect their driving privileges after a DUI arrest. Law enforcement officers and prosecutors may think it was in their sights, but Sturm Law brings them a focused and effective defense they can be confident about. Using their fine-tuned defense skills, they will help them get through the experience so that they can get back to living their lives.
Sturm Law serves a wide variety of different types of clients. For top executives and professionals who are in need of criminal legal representation in the greater Southern California area, the firm has become a go-to name, that is known for getting results. They are passionate about helping people facing DUI charges and are ready to take strong action on your behalf. There is no obligation and no cost to call. For immediate assistance, call 1-866-INNOCENT (1-866-466-2368).
About TENTEN Wilshire, a lifestyle venue for today's professional
TENTEN Wilshire is the perfect place to live, work and play. The popular, downtown Los Angeles, mixed-use building offers stylish, fully furnished apartments with utilities included from executive suites to studio apartments, as well as upscale, fully furnished office space. TENTEN Wilshire also caters to your social life. Mingle with neighbors at the complimentary happy hour, hosted every weeknight, Monday through Friday. Let go of workday stress as you hang out with friends around the cozy fire-pits. Enjoy regularly scheduled rooftop parties. Or simply stroll to a nearby restaurant or theater for fine food and entertainment. TENTEN Wilshire truly feels like its own special village within the city. Office and apartment residents of TENTEN Wilshire enjoy the benefits of amenities like our private gym with health spa services, rooftop pool, Jacuzzi, lounge, and BBQ areas surrounded by terrific views. All utilities, premium cable, high-speed Internet, and local phone are included. Flexible leasing options are available. And, since each of our fully furnished residences features a private outdoor patio, your downtown Los Angeles apartment is ideal for entertaining guests or for putting your feet up to relax.
Neha R. Shah
Events & Production Manager
neha@amidigroup.com
Direct: 213-785-5606
www.1010wilshire.com
http://www.1010wilshire.com/fb/
Source: TenTen Wilshire