Tennessee Small Business Borrowing Stalls in December
Press Release
•
updated: Feb 28, 2018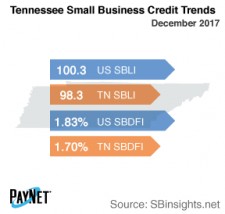 Nashville, TN, February 28, 2018 (Newswire.com) - PayNet, the leading provider of credit ratings on small businesses, reports that in December 2017 borrowing is stagnant in Tennessee. Of the 18 major industries, 8 increased and 10 fell in Tennessee.
The PayNet Small Business Lending Index (SBLI) for Tennessee came in at 98.3, performing similarly to last month's state level, but 2.0% below the national SBLI level of 100.3 this month. Small business borrowers are behaving more cautiously by reducing investment.
The three industries with the most unfavorable change in lending activity over the past year in Tennessee were Mining, Quarrying, and Oil and Gas Extraction (-21.1%); Wholesale Trade (-18.4%); and Information (-17.2%). Nationally, Mining, Quarrying, and Oil and Gas Extraction grew by 5.8% year over year.
At 1.70%, PayNet's Small Business Default Index (SBDFI) for Tennessee was 13 basis points less than the national SBDFI level of 1.83% following a similar performance to November. Compared to last year, the national SBDFI has remained flat, whereas Tennessee's SBDFI dropped 33 basis points.
"Slower borrowing and investment by small businesses means lower GDP in the next quarter," explains William Phelan, president of PayNet.
Source: PayNet
Related Media