Tenet Funds and Universal Equity Fund Have Turned Their Focus to Renewable Energy
Press Release
•
updated: Jul 11, 2017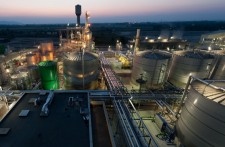 Newport Beach, CA, July 11, 2017 (Newswire.com) - In recent interviews with the executives of Tenet Funds, an asset and fund management company headquartered in Newport Beach, California, and Universal Equity Fund located in Las Vegas, NV -- it has become apparent that the future of renewable energy and Bio-Fuel is becoming a stronger factor in today's energy marketplace.
In an interview with CEO and Co-founder of Tenet Funds and former financial advisor to the Countries of Taiwan, South Korea, and the Royal Family of Kuwait, Jilbert Hovagimyan stated that due to technology advancements and reductions in the cost of producing Bio-fuel, it is time for the aggressive development of the biofuel market.
Rick Butler, who is CRO and Co-Founder of Tenet agrees, and points to the exploding growth of Bio-Fuel projects in the global marketplace. In subsequent interviews with Cole Guri, CEO and Co-Founder of Universal Equity Fund, formerly of Hill International, Mr. Guri has already been actively involved in the development and growth of the Bio-Fuel industry. Mr. Guri believes that Bio-fuel is far more economical than traditional energy solutions and because of favorable tax benefits and the use of inexpensive feedstock (animal fats and refined feedstocks) for the source of the fuel and believes that Bio-fuel can lead the marketplace in renewable energy. He believes that with the upgraded technologies in the Bio-fuel marketplace, it allows the industry to switch to virtually any feedstock that is available. This provides the producer greater latitude in his processing and the ability to use the lowest cost stock at the time. It is definitely a positive outlook for the Biofuel industry that multi-billion dollar equity funds are taking notice.
To learn more please visit www.tenetfunds.com and www.universalequityfund.com
Contact:
Cole Guri
CEO Universal Equity Fund
​cole@universalequityfund.com
Source: Universal Equity Fund
Related Files