Telesystem to Host #HackersSuck Cybersecurity Summit at Dallas Cowboys Stadium
Press Release
•
Aug 10, 2023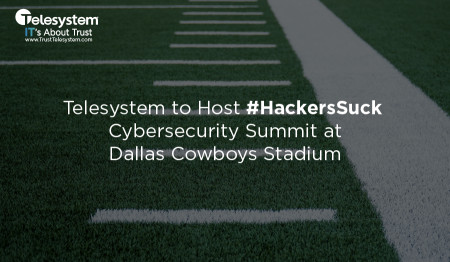 NORTHWOOD, Ohio, August 10, 2023 (Newswire.com) - Telesystem, a leading provider of nationwide managed technology solutions, is set to host its final #HackersSuck Cybersecurity Summit of the year at the Dallas Cowboys Stadium on October 3rd, following two previous successful summits in Phoenix and Philadelphia. This event is free of charge and open to all business owners, executives, and IT professionals, whether they attend in person or virtually Telesystem plans to continue the summit series into 2024 on their mission to educate technology partners and local businesses on the growing cyber threat landscape while giving back to the local communities the summits are held in.
Telesystem's #HackerSuck Cybersecurity Summits focus on the ever evolving and growing cybersecurity threat landscape, bringing together a team of cybersecurity experts and high-profile speakers to educate business leaders and technology professionals on how to keep themselves and their businesses connected and protected. The Dallas summit will feature keynote speaker Scott Augenbaum, author and retired domestic terrorism and cybercrime FBI agent. Augenbaum has responded to thousands of cybercrime incidents and provided hundreds of computer intrusion threat briefings. He will educate the attendees on emerging cyber threats and how to protect themselves from the worldwide reach of cyber criminals.
"When we purchased 'Threat Protector' in August 2022 and entered the cybersecurity marketplace, we didn't want cybersecurity to become 'just another product that we offered', we wanted it to be the glue that helped to combined the rest of our solution portfolio," said Telesystem Chief Revenue Officer Bruce Wirt. "We created the #HackersSuck summits as a way to bring impactful awareness to the importance of cybersecurity," added Wirt. "Like it or not, every single business in America is on the front lines of battle for World War 3. Many people already know that the bad guys can get in through any connected device you have; but business owners don't always realize that educating their employee base on cybersecurity threats is the single most important way to protect themselves. Any employee that uses any device connected to the Internet is a target for a hacker; our summits are designed to illustrate the potential exposure for businesses and offer affordable solutions that keep organizations connected and protected."
In addition to Augenbaum's presentation, the summit will also feature a cybersecurity expert panel discussion which will highlight common omissions that business leaders overlook when securing their networks and data. Attendees will also be educated on simple and affordable solutions that can instantly make an organization more secure and will have opportunities to ask the experts questions or share personal stories of how they were impacted by cyber-related breaches.
Telesystem has also partnered with Cybersecurity GameChangers, a Dallas-based non-profit organization dedicated to promoting diversity in the cybersecurity industry. The charity initiative offers mentorship opportunities to middle and high schoolers, introducing them to the exciting world of cybersecurity. Telesystem will match every dollar donated to Cybersecurity GameChangers by Summit attendees up to $5,000.
Bringing the summit to Dallas is part of a bigger picture for Telesystem, as it has recently expanded its services and network into Texas. In its ongoing nationwide network evolution, Telesystem has added a major network point of presence (POP) in Dallas, strengthening the company's 100G network to deliver more robust and scalable solutions to meet the evolving needs of businesses across the country. In addition to its cybersecurity services, Telesystem can offer Texas businesses a wide array of highly competitive and reliable services, including communication (Unified Communication, Contact Center, SIP Trunking), managed networking (Advanced WAN, SD-WAN, managed switches and routers), and low-latency, dedicated high-speed Internet access backed by Telesystem's always-on DDoS protection and 24/7 US-based support team.
Seating for the event is limited, so guests are asked to register early. In addition to cyber education, in-person attendees will get to experience a once-in-a-lifetime opportunity to enter the Dallas Cowboys playing field through the locker room tunnel, complete with special effects. They'll get to meet with Dallas Cowboys mascot Rowdy, and participate in Pass, Punt, Kick contest. In person attendees will also be provided with breakfast and lunch. For those unable to attend in person, attendees can register to join the event virtually.
Attendees can register at www.HackersSuck.com. There is no fee to register or attend the event.
Press inquiries for Telesystem should be directed to Morgan Hull - Marketing Generalist: mhull@telesystem.us
Source: Telesystem