Teleplan Introduces Certified Data Erasure Solution for Android and iOS Mobile Devices
Press Release
•
updated: Aug 1, 2018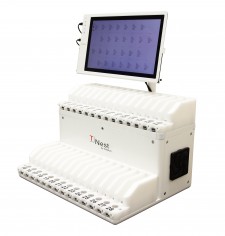 AMSTERDAM, August 1, 2018 (Newswire.com) - Teleplan, a leading lifecycle care solutions provider for technology products, has obtained ADISA certification for its Nest data erasure solution for smartphones. Nest can automatically erase up to 28 mobile phones simultaneous for Android and iOS devices, thus ensuring no sensitive or personal data remains after mobile devices are disposed of, recycled, traded-in or resold.
The ADISA Industry Standards are applicable to companies that participate in IT asset recovery, leasing, logistics, repair center and the IT Asset Disposal Standard. The ADISA audit process is multi-layered and includes full audits, unannounced operational audits, and forensic audits. This approach ensures ADISA Certified companies operate to the highest industry standards and reflect current best practices for handling data-carrying assets.
Nest, which also automates the recognition of make, model and potential locks, and the upgrading of the operating system while charging the device, is a key component of Teleplan's Mobile Ecosystem Platform. It is complemented by Revolution and Helix full function automated smartphone and tablet testers, respectively, as well as Optiline, its unique objective cosmetic grading solution.
"The ADISA certification of our Nest solution is another achievement from our Innovation Center. Nest is not only the best solution to streamline the receiving of returned mobile devices, it now delivers certified peace of mind when it comes to data security", says François Lacombe, CEO at Teleplan.
For further information:
Teleplan International N.V.
Monika Collée
Global Director Communications
Tel.: + 31 6 1110 9049
Email: monika.collee@teleplan.com
Teleplan International N.V. is an industry leader in lifecycle care solutions for technology products, including mobile, customer premises equipment, and value recovery solutions. Focusing on customer care, managed logistics, parts management, screening & testing, repairs/refurbishing and reselling/recycling, Teleplan has 35 years of proven performance providing value propositions throughout the supply chain from the point of purchase to the end of life. Teleplan innovates to consistently keep up with the advances in interactive connectivity and communication, and our "Telemade" approach tailors to each individual customer's needs. Headquartered in Amsterdam/Schiphol, the Netherlands, Teleplan's service centers have a global reach of over 120 countries and employ over 5,000 people.
For further information, please visit: www.teleplan.com
Source: Teleplan