Technology Evaluation Centers (TEC) Moderates the 28th VSO™ for ERP, the Nation's Leading ERP Event
Moderated by TEC, this one-of-a-kind three-day event in Orlando, Florida is an ideal way to learn the latest developments in ERP and kick-start your software selection project.
Press Release
-
updated: Feb 28, 2019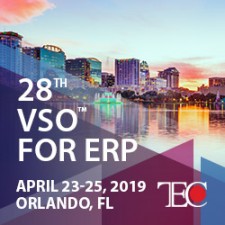 MONTREAL, February 28, 2019 (Newswire.com) - ​​​​The nation's premier enterprise resource planning (ERP) event for manufacturers and distributors, the VSO™ for ERP returns for its 28th edition. It takes place April 23-25, 2019, at the World Center Marriott in Orlando, Florida. TEC returns as the event's moderator for the seventh year.
The VSO™ for ERP has served as the foundation for hundreds of organizations to kick-start their enterprise software selection process. Attendees meet with top ERP vendors, with industry peers and with software selection specialists from Technology Evaluation Centers (TEC), the event's moderator for the seventh year.
Attendees of previous events have benefited immensely from the comprehensive, content-rich agenda that includes scripted demonstrations of ERP software products from top vendors, including Oracle, Sage, Infor, Microsoft and SAP. 
Past attendees have commented that the event helped them:
Consolidate their efforts by seeing industry-leading software products under one roof.
Understand how an ERP software solution will benefit their organization.
Develop a shortlist using the information and advice gathered during the event.
Network with like-minded businesses working through the same issues.
Attending the VSO™ for ERP enables companies to cover a lot of groundwork in just three days, extending beyond selection: experts offer insight into how to achieve a smooth, successful ERP implementation. Attendees can also directly compare how different ERP systems execute specific processes thanks to the demo script created by TEC's experts, which all vendors follow to demonstrate software features. 
"I was able to get two months of research completed in two days," said a director of IT for a life sciences products manufacturer.
Early bird registration is now open for the 28th VSO™ for ERP until March 30, 2019. General registration closes April 16, 2019. For more information, visit https://hubs.ly/H0gL6vw0 or call 1-800-496-1303 ext. 404 or email selectionservices@tec-centers.com. 
About the VSO™ for ERP
Created in 2007 by Brij Image and Information, the VSO™ for ERP has helped to simplify software selection for hundreds of companies throughout the U.S. and abroad. Brij's goal was to create an event where qualified manufacturing and distribution organizations could come and witness multiple ERP packages in action, without sales pressure. What started as a unique concept has grown into an international brand that continues to change the way manufacturing and distribution organizations approach their software selection projects.
About Technology Evaluation Centers (TEC)
Technology Evaluation Centers (TEC) is a global consulting and advisory firm, helping organizations select the best enterprise software solution for their needs. TEC reduces the time, cost and risk associated with enterprise software selection with its advanced decision-making process and support application, software selection experts and extensive resources.
Over 3.5 million subscribers leverage TEC's industry-leading research and detailed information on more than 1,000 leading software solutions across all major application areas. For more information, please visit www.technologyevaluation.com.
Source: Technology Evaluation Centers
---
Categories: Manufacturing
Tags: business software, Distribution, enterprise software, ERP, Manufacturing, SMB, software selection
---