Technical Training Professionals Helps AES Alamitos Energy Center Win Brandon Hall Group Awards for Their Training Program
Press Release
-
updated: Nov 8, 2019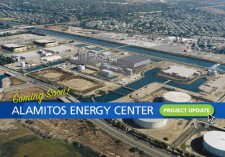 PHOENIX, November 8, 2019 (Newswire.com) - Technical Training Professionals (www.tectrapro.com) partnered with AES Alamitos Energy Center, a subsidiary of the AES Corporation, on its internal training efforts helping them win both Silver and Bronze awards from the Brandon Hall Group for their training programs. "Brandon Hall Group Excellence Awards Program has recognized leading organizations for the past twenty-plus years for the latest trends in Human Capital Management," said Rachel Cooke, Brandon Hall Group COO and leader of the HCM Excellence Awards Program. "The initiatives that were honored are not only innovative but fit the unique needs of the business and create truly remarkable success stories."
"Our passion is to help industrial clients worldwide improve their internal technical training programs, by presenting technical information visually.", said Fred Foster – President & CEO of Technical Training Professionals, L.L.C. "We have helped many companies over the years train their staff in a deeper more meaningful way with our advanced, detailed, 3D video training series."
AES Alamitos Energy Center Site Manager, Ron Rodrique says, "As the Construction Manager for one of our new sites in Southern California, I was asked to develop a training program that would support the flexible schedules of our existing operators who were tasked with running the legacy units until the first fire of our new units."
Ron then decided to use three different companies to build his training program. "To develop the first part of our program, we enlisted Technical Training Professionals (TTP), a company that specializes in development of site-specific, detailed 3D training content."
Ron continues, "TTP was able to import site engineering models and add significant internal and external content for CT, HRSG, ST, ACC, and other systems such as CEM and Boiler Cycle Chemistry Panel. This level of detail, in addition to equipment models supplied for training, has allowed us to create training that the employees actually look forward to seeing and using."
About Technical Training Professionals L.L.C.
Founded in 2003, Technical Training Professionals specializes in "Visual Presentation of Technical Information." Whether explaining the flowpaths of a gas turbine or the step-by-step procedure for disassembling a valve actuator or coal pulverizer, TTP clearly illustrates design, flowpaths, procedures and troubleshooting.
About AES
The AES Corporation (NYSE: AES) is a Fortune 500 global power company. We provide affordable, sustainable energy to 14 countries through our diverse portfolio of distribution businesses as well as thermal and renewable generation facilities. Our workforce is committed to operational excellence and meeting the world's changing power needs. Our 2018 revenues were $11 billion, and we own and manage $33 billion in total assets. To learn more, please visit www.aes.com. Follow AES on Twitter @TheAESCorp.​
About Brandon Hall Group
We are a preeminent research and analyst firm, with more than 10,000 clients globally and over 20 years of delivering research-based solutions that empower excellence in organizations. For more information, visit: www.brandonhall.com
Source: Technical Training Professionals, L.L.C.
Share:
---
Categories: Production and Manufacturing
Tags: 3D Video Training for Manufacturing & Utilities, Alamitos Energy Center, Technical Training Professionals
---