Tech Startup Makes Scheduling Product Free-of-Charge to Help With Doctor & Nurse Pandemic Relief Efforts
Press Release
•
updated: Mar 20, 2020
Schedulehead, software that helps to instantly schedule healthcare workers for on-demand shifts, is making its core product free-of-charge to assist during the COVID-19 pandemic.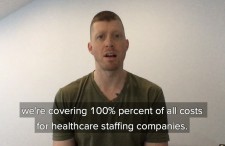 KANSAS CITY, Mo., March 20, 2020 (Newswire.com) - Schedulehead, a personnel scheduling software, announced today that they would be providing their software free of its subscription fee to all healthcare staff providers for the COVID-19 pandemic. The app helps to schedule doctors and nurses at on-demand staffing agencies so that they can get to work quickly, as well as get the information they need to do their jobs.
"Healthcare staffing firms are part of our core user base, and this is something that we can do to pay it forward," says Derick Dorner, the CEO of Schedulehead. "I've seen first-hand the difference that can be made by getting information out quickly to doctors or nurses that need it, and that's more important now than ever."
The product automates scheduling of critical staff to get them on-location with the information and resources they need.
"We know doctors, nurses, administrative, and support staff are scrambling, and they're also implementing new procedures, such as time-limiting exposure to patients with COVID19. We want to help in any way we can."
The company is also extending their text/SMS outreach tools to help with disseminating information instantly to large groups of people.
Details on how healthcare teams can participate in the program can be found on their COVID-19 announcement page.
About Schedulehead
​Schedulehead makes software that uses artificial intelligence and communication systems to manage on location employees.
Source: Schedulehead
Additional Links