Tech Expert Cassie Slane Has the Best Holiday Gifts for Kids on TipsOnTV Blog
Press Release
•
Dec 20, 2021
Super Mom Share Tips for Choosing the Perfect Presents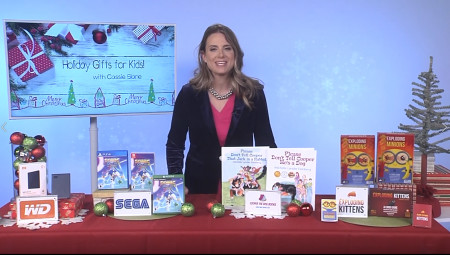 ATLANTA, December 20, 2021 (Newswire.com) - The holidays are here and it can be difficult to to pick the prefect gifts and toys for kids. Parents will need to get creative to get what kids have on their wish lists. Super mom and tech expert Cassie Slane shares gift ideas for kids.
GIFT THE ENTIRE FAMILY CAN ENJOY
For a fun gift, the team at Exploding Kittens has plenty of games that are sure to be a hit with the kids.Minions-themed edition of Exploding Kittens is played by taking turns drawing cards while trying to steer clear of the Exploding Minion cards. The last player who has not exploded, wins. Best for ages 7 and up it is easy to learn, quick to play, features all new art and is fun for kids and adults to enjoy together. Get Exploding Minions for just $19.99 at Walmart and Walmart.com.
EDUCATIONAL GIFTS
Cooper the Dog Books have young readers giggling so much that they don't even realize they are learning about kindness, pet adoption, friendship, and diversity. These award-winning picture books are the perfect holiday gifts for young children who love dogs. One of the books is called: Please Don't Tell Cooper He's a Dog. In this book, Cooper the rescue dog finds his place as head of the family in this sweet and funny story. In the follow up book: Please Don't Tell Cooper that Jack is a Rabbit, it teaches children about friendship and how our differences can bring us together. Pick these up at Amazon or Barnes & Noble.
FAVORITE GIFTS THAT MOST KIDS HOPE TO GET THIS YEAR
Video games are always hot, and gamers are sure to love Sonic Colors: Ultimate! This new spin on the beloved 2010 Nintendo Wii platformer, Sonic Colors, makes a great holiday gift, and features stunning 4K visuals, a new 'Rival Rush' mode, and more, for the ultimate Sonic experience. In the game, players explore six unique colorful worlds inside an interstellar amusement park, each filled with dangerous enemies and hurdles to overcome. For more information, visit colors.sonicthehedgehog.com.
PRACTICAL TECH GIFTS
The perfect gift for students and other Chromebook users is this slim portable drive, the WD Drive for Chromebook. It is a great companion to quickly and easily add extra storage to save, organize and share their files and easily access their content wherever they work. The WD Drive which is certified to work with Chromebook has two terabytes of storage and allows for seamlessly adding extra storage for files, photos, videos and more. Whether in class, on the couch, or out traveling, simply take content along wherever. For more information, visit www.westerndigital.com.
contact: tipsontv@gmail.com
Source: TipsOnTV