Teaming Up to Keep Seattle Clean & Green
Scientology Environmental Task Force and The Way to Happiness Foundation celebrate Spring Clean with Seattle Public Utilities Adopt-a-Street Program.
Press Release
-
May 10, 2016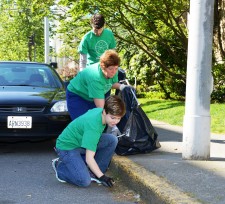 Seattle, Washington, May 10, 2016 (Newswire.com) - Seattle's Scientology Environmental Task Force, the longest-running participant in the city's Adopt-a-Street program, and The Way To Happiness Foundation, teamed up to clean streets in the lower Queen Anne section of Seattle, home of the iconic Space Needle.
Joining more than 700 active volunteer groups that clean up nearly 200 miles of city streets, the Scientology Environmental Task Force has been cleaning Seattle streets since the inception of the program in the late 1980's.
The mission of the Adopt-a-Street program is "to promote civic responsibility and community pride as well as to enhance Seattle's quality of life through clean streets and beautiful neighborhoods."
Today the program serves as a national model as one of the most effective and efficient grassroots litter-removal initiatives in the U.S.
Because environmental and moral issues closely interrelate, the Environmental Task Force of the Church of Scientology Seattle and The Way to Happiness Foundation promote the nonreligious guide to better living, The Way to Happiness, written by author, humanitarian and Scientology Founder L. Ron Hubbard.
"The 12th precept of the guide, 'Safeguard and Improve your Environment' gives us our direction in local environmental efforts to beautify community streets and parks" said Task Force coordinator Dave Scattergood. "In The Way to Happiness Mr. Hubbard states, 'There are many things one can do to help take care of the planet. They begin with the idea that one should. They progress with suggesting to others they should. Man has gotten up to the potential of destroying the planet. He must be pushed on up to the capability and actions of saving it.'"
Between now and World Environment Day June 5, Seattle's Church of Scientology invites other communities to form environmental task forces, take photos of their activities and post them on the Scientology Facebook page or send them to @Scientology on Twitter, Pinterest or G+
"If every neighborhood in America created an environmental task force of even just a dozen people, that would be at least 5 million people working on a common purpose to keep America green," said Scattergood.
For over 25 years the Scientology Environmental Task Force has been working to beautify Seattle area streets and parks, painting out graffiti and creating murals in the community, contributing thousands of hours of volunteer time to create a more sustainable environment.
Spring Clean, Seattle's annual cleanup of public spaces, is promoted by Seattle Public Utilities (SPU) throughout April and early May.
Source: ScientologyNews.org
Share:
---
Categories: Environmentalism, Religion, Community Standards
Tags: environment, green, Seattle, The Way to Happiness
---