TeamCatapult Partners With ICAgile and Raises the Bar for the Agile Coaching Profession
Press Release
•
updated: Jun 5, 2018
Several experts work together to refresh the Agile Coaching track that outlines the path for development in the discipline.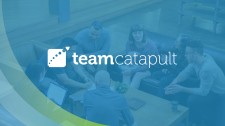 CLARKSBURG, Md., June 5, 2018 (Newswire.com) - ​TeamCatapult, LLC is pleased to announce its collaboration with the International Consortium for Agile (the ICAgile) to offer the most comprehensive development program for Agile Coaching. Team Catapult's CEO Marsha Acker – in collaboration with three committee members – helped revise ICAgile's Agile Coaching learning track, resulting in two professional certifications: Agile Team Facilitation and Agile Coaching. The update reflects the state of practice and sets the tone for the future of Agile Coaching. While the original learning track was instrumental in defining the Agile Coaching profession, the refresh reflects the evolving discipline. It demonstrates an intentional effort to raise the bar for the profession of Agile Coaching.
Other committee members included Lyssa Adkins, President Emeritus, Agile Coaching Institute, and Luke Lackrone and Timothy Myers from Booz Allen Hamilton. The track review process included 30 industry leaders and coaching practitioners, with the mutual goal of ensuring the track reflected the depth and breadth germane to a top-notch learning experience.
I believe there is no greater way to lead change than by starting with the competencies in the agile coaching track and this updated track leads the way.

Marsha Acker, CEO, TeamCatapult
"I'm really excited about this update. Since we first launched the agile coaching track five years ago, the competencies have had a positive impact on the individuals and organizations that have fully embraced them and incorporated the practices into how they work each day. But like any large body of knowledge, there are always opportunities to deepen our practices. I believe there is no greater way to lead change than by starting with the competencies in the agile coaching track and this updated track leads the way," said Marsha Acker.
"ICAgile greatly appreciates Marsha's ongoing thought leadership and contributions to both the original and renewed version of this learning program. She is an exceptional coaching and facilitation practitioner and a role model as an instructor. We are thrilled to collaborate with her to enhance our collective global impact," said Shannon Ewan, ICAgile's managing director. For more information about this track, visit http://www.icagile.com/Learning-Roadmap/Agile-Coaching.
TeamCatapult partners with leaders and teams to create practical and transformative experiences that cultivate new capabilities for leading change within organizations. We are deeply committed to supporting the growth of leaders to achieve new levels of performance and results. Contact Marsha Acker at info@teamcatapult.com.
International Consortium for Agile (ICAgile) is a leading global Agile accreditation and certification body. ICAgile provides world-class learning tracks to guide organizations in the development of their curriculum.
Source: TeamCatapult LLC
Additional Links