Team USA Women's Eight - the Best in the Water and the Best in Life
Press Release
•
Sep 2, 2016
Not only did they bring home the Gold, they are gold-medal examples for the next generation as advocates of drug-free living in an era when that example is urgently needed.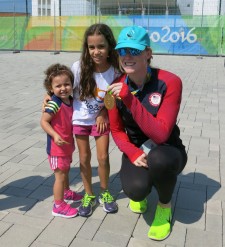 Los Angeles, California, September 2, 2016 (Newswire.com) - ​​​​The Team USA Best Awards are accepting votes for the best athletes and teams of the 2016 Olympics. And the team Time magazine described as America's Best Olympic Team are not only exceptional athletes, they set the standard.
There is no other team that can beat their record of taking home 11 straight world and Olympic titles.
And when they could have been basking in their latest triumph, the eight stepped out on another contest—a fight for the future of children and teens in Brazil and around the world, as supporters of the Foundation for a Drug-Free World.
Team USA's Rowing Eight took center stage at Rio's Barra Park, where they encouraged fans to sign the Foundation's Drug-Free Pledge. "The kids were beyond excited to have their pictures taken with these superstars," says Ambra Calzolari, the Foundations executive director. "They were autographing copies of our booklets and posing for photos and selfies. You could tell they take this issue very seriously."
The Los Angeles-based Foundation for a Drug-Free World came to Rio to use the momentum of the Olympics to form a new chapter of the group in Brazil. They were joined by the directors of the Drug-Free World chapters for Venezuela and Colombia and the Foundation's Latin American Coordinator from Mexico. Their priority was to establish a drug prevention team that was large enough and dedicated enough to make a real difference. And that's exactly what they did, handing out a million copies of drug prevention booklets at Rio 2016.
A 2012 survey by the University of São Paulo estimated 400,000 Brazilians are regular users of crack cocaine, making Brazil the largest consumer of the drug internationally. And the country's crack cocaine epidemic is blamed for the 166 percent increase in homicides in Brazil between 2002 and 2012.
In America, a 2015 study by the University of Michigan found 58 percent of 12th graders used alcohol within the last year, 35 percent used marijuana and 8 percent used amphetamines. While these statistics are gradually declining they are still alarmingly high, and with the U.S. Census estimates of between 3.4 and 4 million 12th graders, that is an enormous number of lives that are at risk.
So for kids in Rio and kids at home, Team USA Rowing Eight are setting a shining example. They are using their star power to help them make choices that will make every difference in their lives, proving they are not only the brightest stars in Team USA's galaxy, they are also the best period.
Source: Foundation for a Drug-Free World
Related Media