Team Honda Racing Ridgeline Ready to Take on Parker 425
Press Release
•
updated: Feb 1, 2017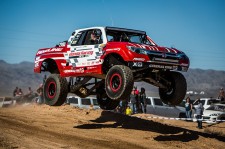 Parker, AZ, February 1, 2017 (Newswire.com) - 2016 was a development year for Jeff Proctor's Team Honda Racing Ridgeline team. They had great success in unusually demanding conditions during the SCORE International series Baja 500 and iconic Baja 1000 race in Mexico, but were hit with minor issues at the Mint 400 race in Nevada. With thousands of race miles under their belts, and a dialed in race truck, the team is anxious to hit the 7200 class at the Best In The Desert series Parker 425 race in Parker, Arizona.
The Parker 425 is the first race of the year, and the team is looking forward to a great race. The course is a tough one that is exactly what the Ridgeline was designed to endure. "I have always liked the Parker course," says Jeff Proctor, "It has such a diverse mix of terrain from sand washes and super rough rock sections to wide open rally roads. Our program continues to get stronger and we are looking forward to enhancing our results from last season. Our goal is to add to our SCORE series wins with a victory in the Best In The Desert series."
The Honda Ridgeline team has made some important changes for 2017. Aaron Laeng has joined as the Team Manager. Laeng will focus on race preparations, planning, and logistics. He will also spend time navigating from the right hand seat. David Cowan is now the crew chief and will use his extensive experience and keen eye for attention to detail to benefit the team.
"On the heels of the Ridgeline having been selected last week as North American Truck of the Year, we are pleased to announce the extension of this agreement to continue racing the Ridgeline with Proctor Racing," said Jeff Conrad, senior vice president and general manager of the Honda Division. "In just its first full season, the Baja Ridgeline has already claimed several class victories in desert truck racing, and we look forward to adding to those successes with the continuation of this strong partnership."
With a clean slate, and stronger than ever, the Team Honda Racing Ridgeline team is looking forward to getting back in the dirt in 2017. The Parker 425 will be their first chance to open up the high tech, twin turbo Honda in the extraordinarily demanding conditions that offroad racing provides.
For all the latest on the Honda Ridgeline Off-road team go to: http://www.hondaoff-road.com/ or HondaOffRoadRacing on Facebook, Instagram: @HondaOffRoadRacing or Jeff Proctor on Personal Instagram: @proctor_race.
Photography By: Bink Designs
Media Contact:
Bink Designs
Phone: 619.922.2465
Email: info@binkdesign.com
Source: Team Honda Racing Ridgeline
Related Media
Tags
Additional Links