Teachers Add Human Touch to Student Feedback With Mote Voice Commenting
Mote surpasses 150,000 users with Back to School surge
Press Release
-
updated: Aug 25, 2020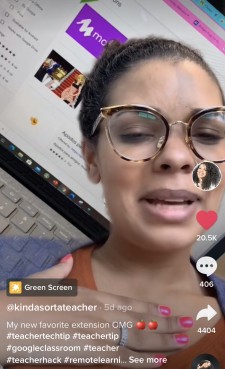 SAN FRANCISCO, August 25, 2020 (Newswire.com) - Education Technology startup Mote Technologies announced it has surpassed 150,000 users since launching its voice commenting product in March 2020. As schools and teachers adopt new digital tools for remote learning, Mote voice commenting has become an instant hit with teachers and students. Mote is an 'add on' for Google Classroom, Docs, Slides and Sheets that makes it easy for teachers and teams to create voice note comments and feedback, enabling students to hear their teacher's comments on their schoolwork. 
"Teachers were looking for new tools that bring the human element to remote learning," said Will Jackson, CEO and Co-Founder of Mote. "Mote's vision is a world that learns faster through feedback – we are thrilled by the reception we've received from educators and by the value we are bringing during a difficult time."
Connecting teachers and students
With Mote, teachers are able to record and attach spoken comments and feedback directly on student's work. With integrated voice-to-text transcription, and a recently launched translation feature, Mote enables students to both hear, and read, teachers' comments in twenty world languages reducing barriers of distance and language.
"Mote is not only a tool for instant verbal feedback, it creates connection, builds rapport and decreases barriers for those students with reading difficulties or with English as a second language," said Maria Etheridge, a teacher from Victoria, Australia. "Even better....it is a 2 way tool." 
Saving teachers time
By integrating seamlessly into teachers' review and feedback workflow, and by harnessing voice technology to increase the speed of delivering feedback, Mote helps teachers to manage their remote teaching workload.
"We found Mote to be a treasure during emergency remote learning this past spring and have added it to our repertoire of resources for our intermediate (Grade 2-5) students who use a Chromebook," said Mike Pinto, a School Principal from Lafayette, Indiana. "It is quick and simple to use, which builds in a margin for teachers during their busy days and evenings."
How it works
Mote is a Chrome Extension that integrates with Google Classroom, Docs, Slides and Sheets.
​Mote is available now in free and paid versions, from https://justmote.me.
Gift Mote to your child's school or teacher
Mote is now offering a Back to School special for parents and PTAs:  20% off the regular price of an annual subscription for Mote's Unlimited tier - usually $49 / year in the US, now only $39.20. 
Go to www.justmote.me/gift for details.
About Mote
Mote Technologies Inc. is a startup with a mission to make feedback faster and friendlier. 
Mote's passionate teacher users have been key to spreading the word across staff rooms and social media. A TikTok video about Mote created by South Carolina English teacher Tynieka 'Tiger' Snowden has been viewed more than 169,000 times in less than 7 days https://www.tiktok.com/@kindasortateacher/video/6862423846486691078.
Media Contact: Will Jackson
​Phone 650.561.5371
PR@justmote.me
Source: Mote Technologies, Inc
Share:
---
Categories: Education
Tags: EdTech, Education, Startups
---