Teach Access Releases New Programs and Resources for Educators and Students
Press Release
•
Sep 13, 2023
Designed to introduce students to inclusive design and create a world where technology is born accessible.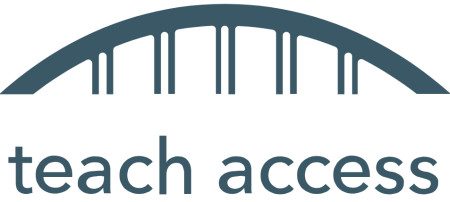 EATON RAPIDS, Mich., September 13, 2023 (Newswire.com) - Teach Access, a non-profit 501(c)(3) organization collaborating with education, industry, and disability advocacy organizations, envisions a future where students enter the workforce with knowledge of the needs of people with disabilities and skills in the principles of accessible design and development so that technology, products, and services are born accessible.
Recently, Teach Access launched a large-scale initiative to scaffold professional development learning experiences for educators, administrators, students, and individuals in the workforce looking to learn or enhance their skills in digital accessibility.
"We are thrilled to launch the first of several new programs designed for students and educators from diverse backgrounds and levels of expertise," said Rolando Méndez-Fernández, Director of Education.
"These programs and resources have been thoughtfully crafted to introduce learners to the concept of disability and help them gain essential knowledge and skills related to accessibility. We hope to empower everyone to use these concepts daily to make every product, service, technology, and event accessible."
Seven Accessibility in the Disciplines Courses have been released, which are self-paced online courses for educators and include an introduction to disability and accessibility, along with learning how to incorporate accessibility into teaching various disciplines, such as computer science, human-computer interaction, graphic design, UX design, technical writing, and instructional technology. Courses focused on additional disciplines will be released in 2024.
Two new monthly virtual student programs begin mid-September to introduce college students to disability and accessibility throughout the academic year. Participants in the Student Academy and Student Ambassadors program will learn from Teach Access staff and accessibility experts, disability advocates, and industry partners working to create accessible technology.
Teach Access Grants (formerly known as Faculty Grants) is a program that has awarded more than $350,000 each Spring to faculty in higher education. These awards are to help instructors infuse concepts of digital accessibility into their current courses, which are then added to the free open educational resource (OER) Teach Access Curriculum Repository, with more than 350 curricular items. New application submission guidelines will be available early next year.
Additionally, Teach Access is excited to partner with colleges and universities nationwide, creating educational hubs to offer regional in-person training opportunities. If you are interested in becoming a host campus for programming, contact Rolando Méndez-Fernández at Rolando@teachaccess.org.
To eliminate barriers to access, Teach Access online programs and resources are free, thanks to generous corporate sponsorship. Stay updated by subscribing to the Teach Access Newsletter, or follow them on Linkedin, Twitter, Instagram, and Facebook.
Source: Teach Access