Taste Adventure: Meet Head High Wines - Sustainability, Stewardship, and Superb Sonoma Soils
The Intersection of Soil and Water. Founded by surfers and other adventurers, Head High partners a passion for making and drinking great wines with a love of nature, treading lightly on the earth and honoring the North Coast land and water that help make its wine exceptional. Head High also engages in community stewardship by donating proceeds from sales to favorite environmental non-profit organizations, nearly $100,000 to date.
Press Release
-
updated: Apr 14, 2021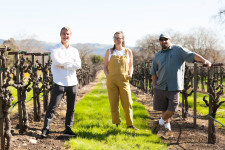 SONOMA, Calif., April 14, 2021 (Newswire.com) - Meet Head High Wines: Picture the Venn diagram of the wine world and the surfing culture. Until now, it came up pretty empty. Now, Head High Wines seeks to change all that by marketing two elegant yet affordable wines to surfers, explorers, and nature lovers.
The Sonoma County wine brand's mission is three-fold: to produce elegant yet affordable North Coast pinot noir and chardonnay; to inspire environmental and community stewardship; and to cultivate an adventurous spirit and the pursuit of pleasure through its wines and brand ambassadors. 
Accessible Pinot Noir and Chardonnay
In surfing jargon, "head high" is a wave that builds to the height of a rider's head. Head High Wines also likes the other implied meaning: to set the bar as high as it can. Head High wines are evocative of the North Coast's best soils. By applying seasoned wine-growing expertise, the winery is able to consistently deliver vibrant, high-quality wines at affordable prices. 
2019 Sonoma County Pinot Noir ($24.99)
"A poised, youthful style with lively cherries and cranberries, white pepper, redcurrant leaf, and pomegranate acidity." — Decanter World Wine Awards
2020 Sonoma County Chardonnay ($21.99)
"A fairly floral, aromatic style showing jasmine, lemon and sweet pear with a subtly saline finish." — Decanter World Wine Awards
Our Brand Ambassador
Head High's brand ambassador Zane Kekoa Schweitzer is a 15-time World Championship surfer who's also won back-to-back Ultimate Waterman tournaments in 2016 and 2017. When he's not traveling the globe as a motivational speaker or advocating for conservation, he can be found sitting back with a glass of Head High's Sonoma Coast pinot or chardonnay. "Head High aligns with everything I aspire to in my own life," Zane says. "I share the company's commitment to stewardship of our oceans and other natural resources. Like me, the brand represents adventure, simple pleasures, and eco-responsibility."
Behind the Wines
As a Monterey native, winemaker Britt Richards has always been drawn to the ocean and its restorative, calming nature. She finds herself similarly drawn to the vineyards. "There's nothing more moving than seeing a fog-enveloped vineyard at first light," she says. After spending the last decade under the mentorship of such legendary winemakers as Nicholas Morlet and Philippe Melka, Britt brings a seasoned expertise to Head High's winemaking, from the vineyard to the bottle.  
Proprietor, co-founder, and winegrower Bill Price III discovered early on the barrels and beach-breaks of surfing. He was also introduced to wine at a young age by his father and, as an adult, he discovered another kind of barrel: those used in winemaking. "My connection to the earth began in the water and grew with the vines," he says. "From surfing to farming, my primary goal has been to enjoy the natural world and to take care of our one blue planet for all the coming generations." 
Head High Wines is owned by Price Family Vineyards & Estates, which also owns Three Sticks Winery in Sonoma.
Head High engages in community stewardship by donating proceeds from sales to environmental non-profit organizations. To date, it has contributed nearly $100,000 to such causes. 
Source: Head High Wines
Share:
---
Categories: Wine
Tags: adventurers, chardonnay, companies who care, eco-responsibility, food and wine, giveback, grape growing, grapes, philanthropy, pinotnoir, socially conscious, sonoma coast, stewardship of the land, surfing, sustainability, sustainable, sustainable winemaking, wine, winemaker, winemaking
---