Taskforce Names David T. Boucher as Chief Strategy Officer
Press Release
•
updated: Oct 22, 2020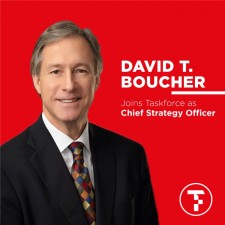 KNOXVILLE, Tenn., October 22, 2020 (Newswire.com) - We are excited to announce that David T. Boucher, former president and chief operating officer of UCI Medical Affiliates, is joining the Taskforce team in Skopje, Macedonia. As Chief Strategy Officer, David will lead Taskforce's strategic growth and quality control initiatives.
David brings with him a wealth of knowledge. Most recently, he served as chief business transformation officer at Bumrungrad International Hospital in Thailand, which is consistently recognized as one of the world's best hospitals for medical tourism.
At UCI Medical Affiliates, a wholly owned subsidiary of Blue Cross Blue Shield of South Carolina, David's strategic insight pioneered the development of real-time medical coding, allowing Doctors Care to accelerate its revenue cycle, increase accuracy and compliance, while cutting billing cost for its 55 urgent care clinics. Under David's leadership, Doctors Care was among the first U.S. urgent care groups to implement telemedicine, which positioned it to deliver best-in-class services to its customers during the COVID pandemic.
As President of Companion Global Healthcare from 2006-2016, Boucher was recognized as a pioneer in employer-focused medical travel benefits. In this role, he secured alliances with 22 international hospitals, which provided Blue Cross subscribers with an affordable option to receive medically necessary procedures ranging from hip and knee replacements to spleen removals and heart valve replacements.
Boucher also brings 14 years of experience serving Quorum Health Group, a spin-off of HCA, which managed 325 for-profit and managed non-profit hospitals nationwide. At Quorum, David served in several important positions; including CEO of the Carolina Hospital System, CEO of Good Hope Hospital and Senior Administrator of Northeastern Vermont Regional Hospital.
Boucher earned a Master of Public Health, Healthcare Administration at the University of South Carolina, and earned a Bachelor of Science, magna cum laude, at Slippery Rock University. Currently, David serves on the University of South Carolina's Master of Health Administration Advisory Board. He is a fellow with the American College of Healthcare Executives (ACHE), a member of the Healthcare Financial Management Association and as an advisory board member of the Manila-based Health Core International Consultancy, Inc.
David is a community leader, holding board positions for multiple Rotary Clubs (past president and Paul Harris Society), World Affairs Council, South Carolina Philharmonic, SC Arts Foundation and the Columbia Free Medical Clinic. He coached youth soccer for 21 years.
About Taskforce
Taskforce is an international business service provider that helps its customers make significant and enduring improvements to their operational performance. Founded in 2015, Taskforce has grown to over 500 employee-team members, who operate from service centers in North Macedonia and Croatia, which have emerged as the most ideal offshore business destination in the world because of its location, commitment to education, English prevalence and unmatched value.
PRESS CONTACT:
C. Scott Naumoff
Source: Taskforce
Tags
Additional Links