Tartina Restaurant: La Dolce Vita in Manhattan
A burst of flavors at the new Tartina, an Italian fresh-casual in the Upper West Side
Press Release
-
updated: Nov 29, 2017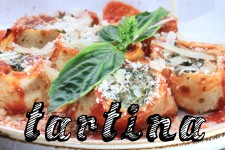 New York, NY, November 29, 2017 (Newswire.com) - After a successful venture in Midtown, Tartina [Ta: 'rti: nah] has relocated in the charming Upper Westside, an exciting addition to the Morningside Heights neighborhood. Located at the corner of Amsterdam Avenue at 111th Street, right by Columbia University and St. John the Divine Cathedral, it promises to add a touch of Italian lifestyle to the diverse dining scene in the area.. 
Featuring authentic Italian cuisine made from the finest ingredients, and an honest wine and spirits selection, Tartina's dishes are artfully displayed with impeccable presentation and personable service. The menu is seasonal and crafted with special attention to utilize only the freshest organic produce and eco-friendly products. The different offerings include our signature dishes such as: Spaghetti alla Nerano – spaghetti swirled with Grana Padano and sautéed organic zucchini served with a homemade shell of Grana Padano; amazing steaks served on a dramatic Lava Stone, offering a new level or epicurean delights. On weekends, a signature Italian Brunch is expected to become a delightful trend, featuring outstanding cocktails and satisfying selections such as a signature homemade chicken biscuit in a mouthwatering homemade sausage gravy and a traditional creation of Pan d'Oro French toast.
Mangia bene che vivi 100 anni
Tartina is not only an extraordinary culinary experience, but also a place in which to find warm hospitality in a unique and compelling atmosphere: from the chic tones of black, whites and greys, to boasts of rich woods, the setting provides the perfect spot for a sophisticated, yet comfortable and welcoming venue.
 "Mangia bene che vivi 100 anni*" says Chef Federico Terminiello, who hails from Sorrento, the birthplace of La Dolce Vita and author of his dishes with a creative, rich and healthy panache. "Our personal goal was to get the heart of Italian wine and food and the experience of eating in Italy– simple and traditional – to this refined neighborhood" says Maria Teresa Valestra and Carlo Di Giulio, partners of the restaurant.
Tartina is open Sunday to Thursday from 12 PM to 10 PM and on Fridays and Saturdays from 12 AM to 11 PM. Guests can enjoy their meal at the bar as well as tableside. Tartina also offers take-away and -soon, delivery services.
For further information, please visit our website at www.tartina-restaurant.com. Media inquiries: Daniela Puglielli at (908) 212 7846 or daniela@accentpr.com        
​*"Eat well and you'll live 100 years"
Source: ACCENT PR, LLC
Share:
---
Categories: Vacations and Travel, Restaurants, Bars, and Catering, Lifestyles
Tags: Carlo Di Giulio, eating near Columbia University, Eating on the Upper West Side, Federico Terminiello, Maria Teresa Valestra, Tartina Italian Restaurant, Upper West Side
---