Targray Named S&P Global Platts Biofuels Award Finalist
Winners to be announced at Global Energy Awards gala on Dec. 7
Press Release
-
updated: Oct 24, 2017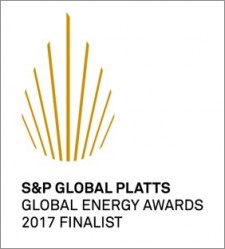 NEW YORK, October 24, 2017 (Newswire.com) - Cleantech industry supplier Targray has been selected as one of the finalists for the S&P Global Platts Global Energy Awards. The 2017 finalists were recently announced by program host S&P Global Platts, the leading global provider of energy and commodities information and spot market benchmarks. The nomination to the 'Biofuels' category highlights Targray's unique biodiesel procurement solution, designed to enable fuel retailers and transport fleets to become more profitable, competitive and cost-efficient while helping to create a sustainable economy for future generations.
Since first launching its biodiesel solution in 2012, Targray – already a leading supplier to the solar and battery manufacturing industries – has grown to become one of North America's most important biodiesel distributors, with a dedicated rail fleet linking its tank network to fuel retailers and fleets throughout the U.S. and Canada.
About the Global Energy Awards
Hundreds of energy industry representatives are expected to attend the 2017 Global Energy Awards black-tie dinner gala in New York City on Dec. 7. The awards program will be emceed by CNBC Reporter Jackie DeAngelis. Preceding the awards program, finalists and other industry executives will take part in the S&P Global Platts Global Energy Outlook Forum, a platform for exploration and debate of industry-critical issues by energy executives, government officials and academics.
About Targray
Targray is a multinational renewable commodities company with a leading presence in four major markets: Solar Photovoltaics, Lithium-ion Battery, Biofuels, and Optical Media. Drawing on three decades of experience in technology-driven industries, the company provides a comprehensive range of advanced materials & solutions that create value for its customers throughout the cleantech supply chain.
Since being incorporated in 1989 in Montreal, Canada, Targray has grown to become one of the renewable energy industry's most important suppliers, with office locations in 6 countries and approximately 400 million USD in annual sales.
About S&P Global Platts
Founded in 1909, S&P Global Platts is the commodities information arm of S&P Global and a premier source of benchmark price references, with news, data and information coverage spanning biofuels, carbon emissions, coal, electricity, oil, natural gas, metals, nuclear power, petrochemicals, shipping and sugar.
Source: Targray
Share:
---
Categories: Business to Business, Alternative Energy, Energy, Green Industries
Tags: Awards, biodiesel, biofuels, Clean fuel, Cleantech, S&P Global Platts, Targray
---