Tampa Realtor Joe Lewkowicz Launches Livestream Conference Call
Press Release
•
updated: Jun 6, 2017
Established Tampa Bay real estate agent Joseph Lewkowicz is offering a livestream conference call where users can log in and communicate with Lewkowicz directly in order to gain insight into the Tampa market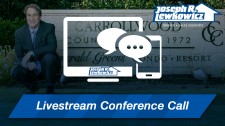 Tampa, FL, June 6, 2017 (Newswire.com) - Investing in real estate has become somewhat of a trend over recent years; more and more people are beginning to become involved in the industry, whether it is through becoming licensed agents themselves, or simply flipping houses. However, it's one thing to get into the market; it is something completely different to thoroughly understand it. Furthermore, knowing the local housing market is not something that benefits only Realtors and investors; those who are looking to purchase or sell a home should also educate themselves on current market trends and performance.
Tampa's housing market has plenty of properties to choose from, and homes can be found in virtually any price range. For most people, this is where their knowledge of the market ends. What is needed in order to sell your home for the most or purchase your home for the least is trustworthy, factual information from a reliable source.
Joseph Lewkowicz is a North Tampa Realtor who has accrued over 40 years of professional experience in the region, establishing him as one of the top sources for information about the Tampa housing market. Joe's personal sales exceed over 3,000 homes, which is a number that rivals those of entire sales teams. Additionally, Joe Lewkowicz was recognized in 2016 as one of the top Coldwell Banker salesmen in the entire country, earning him an invitation to the prestigious Celebration of Success event.
On the second Thursday of every month, Joseph Lewkowicz is launching a livestream conference call service that will allow those in the Tampa community who have questions about the market to participate and ask him questions.
Joe will communicate with them directly, using his vast experience and knowledge of the Tampa real estate industry to answer their questions as thoroughly as possible. Joe's next livestream is set to begin on June 8th at 10 a.m. EST, and can be accessed by visiting, http://josephlewkowicz.com/livestream
Individuals who are interested in Joe's expertise but are unable to participate in the livestream will be able to search through archives on Joseph Lewkowicz's website, where they can find the recorded footage in its entirety. Joe Lewkowicz is providing a unique opportunity for viewers to not only learn more about the growing Tampa housing market, but to also better connect with Joe himself.
While the livestream will focus heavily on the real estate industry and information that homeowners and homebuyers should be aware of, Joe will also answer questions about himself as a professional, such as his best and worst moments as a real estate agent, advice to those who are looking to take a similar path, etc.
As if his extensive credibility were not already enough, Joseph Lewkowicz has been ranked as the top salesman in Tampa for the past seven years consecutively, thus solidifying him as both a dominant force within the local real estate market and a seasoned veteran of the industry. For those who are looking to find a buyer for their property, Joseph Lewkowicz is one of the most valuable assets that someone can have for one simple reason: No one works harder to sell your home.
To learn more about Joe Lewkowicz or utilize his many valuable industry resources, please visit http://josephlewkowicz.com/ today.
For media or press inquires, please contact media relations liaison Dana Blickensderfer at Info@iBossAdv.com
About Joe Lewkowicz
With over 40 years of experience, Joe has proven himself to be a prominent figure in the Tampa Bay Real Estate market. Selling thousands of homes throughout his career, Joe is known for his exceptional customer service, attention to detail, market-savviness and calculated decisions. Search for North Tampa, FL homes for sale on the most up-to-date Real Estate MLS in Mid-Florida at: http://josephlewkowicz.com/
"No-One Works Harder To Sell Your Home!" For more information visit: http://josephlewkowicz.com
Source: Joseph Lewkowicz
Tags
Additional Links