Taliesin Preservation Names Hugh Weber as Creative in Residence
Press Release
•
Jan 13, 2023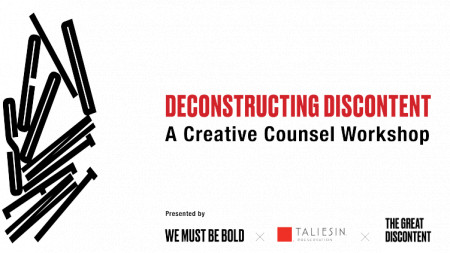 SPRING GREEN, Wis., January 13, 2023 (Newswire.com) - Taliesin Preservation, Inc., a Wisconsin-based nonprofit with a mission to preserve the natural, built, and cultural environments of Frank Lloyd Wright's home at Taliesin, announced today the appointment of Hugh Weber as Creative in Residence.
Weber is a network theorist, community organizer, and strategic advisor who counsels established leaders facing uncertainty across multiple industries, including design, media, government, and business. After spending more than a decade leading political campaigns throughout the United States, Weber founded OTA, a cultural organization focused on connecting creative disciplines across North Dakota, South Dakota, and Minnesota. He later founded WE MUST BE BOLD, a community design studio, and in 2019, acquired The Great Discontent, a platform that amplifies the work of emerging artists and under-represented creative communities.
Through the partnership with Taliesin Preservation, Weber will host the world's leading artists, creatives, and executives in multi-day workshops at Taliesin focused on exploring professional challenges and opportunities for transformation beginning in early 2023. "Uncertainty is a guaranteed part of any creative journey. We all reach crossroads and face obstacles while trying to make progress. When Frank Lloyd Wright experienced these moments of uncertainty, he went to Taliesin," Weber says. "With the support of Taliesin Preservation and in the context of Wright's home and studio, I believe that we can create literal and figurative space to examine these moments of the unknown while finding clarity of purpose, confidence in the process, and a commitment to moving forward."
"Wright spoke of Taliesin as a busy workshop for radicals. We believe that the people that Hugh will host and the vision he has for his workshops as Creative in Residence is deeply aligned with this history," notes Carrie Rodamaker, Executive Director of Taliesin Preservation. "Taliesin is a place to immerse yourself in architecture, culture, agriculture, and nature. As we welcome these guests to this historic place, we hope they will increase their capacity to think critically of the environments they live in and foster change for their own communities."
"The best way to educate the public on the life and work of Frank Lloyd Wright is to understand the ethos and ideals embedded within Taliesin," shared Caroline Hamblen, Taliesin Preservation's Director of Programs and member of the Taliesin Fellowship since 2001. "Taliesin has always been a living laboratory for exploring design, materials, and the world around us. We're thrilled to welcome another generation of creative minds to discover this place and the creative spirits it holds."
To learn more about how to apply for a future workshop at Taliesin, email Hugh at: hugh@wemustbebold.com.
Source: Taliesin Preservation, Inc.