Taking a Brother's Paintings Back Home to NJ for an Exhibition: Lewis Lanza Rudolph Fantasy World Visions: A Retrospective at the Monmouth Museum
Press Release
-
May 16, 2016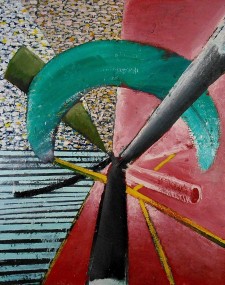 Lincroft, NJ, May 16, 2016 (Newswire.com) - Reclusive artist Lewis Lanza Rudolph was a lifelong resident of Red Bank, New Jersey.  Rudolph was a highly respected and sophisticated artist exhibiting his work in both New Jersey and New York galleries in the late 1970's through the 1980's.  Lewis Rudolph received a New Jersey State Council on the Arts Fellowship in 1983. "When I showed Rudolph's works (in 1987) I felt he was one of the best abstract painters I had seen in a long time." Said Ellen Sragow, Sragow Gallery NYC.
New York Times January 1982 quoted, "Mr. Rudolph seems mostly interested in the emotional effects of color…"  Artist Franc Palaia said of his friend's style, "He developed a painting style, although unique and all his own, that was a sly but honest and respectful blend of late Picasso, late deKooning and lesser known Max Weber."
From May 20 – September 4, 2016, the Monmouth Museum will present an exhibition of Rudolph's Abstract Oil Paintings, many of a prophetic nature. Some depict women, love, loss and confusion, and at the other spectrum, landscapes from his very early years, of the Navesink River.  "I remember Lewis from the late 70's and early 80's. He was a quiet guy, yet his work is so vibrant with bold colors and stark symbolism. We are pleased to present this retrospective of his work – a testimony to a wonderful artist that is long overdue."  Said Avis Anderson, Executive Director of the Monmouth Museum.  The Opening Reception that is free and open to the public will be held on May 20th from 6:00 – 8:00 PM, refreshments will be served.
By choice, in the early 1990's Rudolph withdrew from the art scene and into his studio.  Why he stopped exhibiting his work remains a mystery.  Lewis Lanza Rudolph died in 2012 leaving a lifetime of artwork behind. 
"I paint two paintings, one for myself and one for the audience.  The painting for the audience is abstract.   The painting for myself is a fantasy world vision, a surrealistic vision.  My paintings can be called Abstraction."  Said Rudolph on a hand written note found by his sister, Denise Ecenroad of Schaefferstown, PA.
After Rudolph's death, his sister discovered a lifetime of his art work, sketches and art diaries in his home - brilliantly crafted pieces of abstract art, primarily 4 by 5 feet in size. She recalls him drawing at a very young age, and painting a mural on his bedroom walls of a western theme with cowboys.  "I want to make the room look beautiful" she recalls him saying to their mother.  As a teenager he continued to draw landscapes and in 1969 enrolled in the Art Student League of New York until he was drafted by the military in 1970.   It was when he came back from the service that he started to paint abstracts.  It is thought then he decided to use his artwork for social-commentary. Two sticking examples of his futuristic work that will be in the Museum Exhibition he named "The War Towers" and "Evil Industry."
In addition to his one person exhibitions, he was in several group shows including: the Annual Juried Exhibition at the Monmouth Museum, Lincroft, NJ in 1977; in 1978 at the New Jersey State Museum, Trenton, NJ; in 1981 at Tweed Art Group, Plainfield, NJ; and in 1983 at City Without Walls, Newark, NJ.
Rudolph continued to show his work in the metropolitan area, including Sragow Gallery and the Beitzel Gallery in New York City.  The last record of a showing of Rudolph's art that Ecenroad could find was in 1987 the exhibition was named "New Abstraction" at the Sragow Gallery, NYC.   "Apparently he just stopped showing at the height of his career," she said.  But he didn't stop painting.  His paintings span five decades. 
Ecenroad has developed a website, lewislanzarudolph.com, telling what she knows of her brother's story and displaying some of his artwork.  Her ultimate goal is to sell his paintings and to take the proceeds and offer scholarships and grants to budding artists. "I'm sure he'd appreciate that he helped give someone else the same opportunity he had." 
Franc Palaia, an artist who has exhibited at the Metropolitan Museum of Art, the White House, The New Museum and the Smithsonian Institute, and the Museum of Modern Art in NYC said of his friend Lewis Rudolph, " He seemed to have a natural instinct of how to make a perfect oil painting with complex compositions of stylish and confident brushstrokes, utilizing a multitude of rich visual textures, luscious color, animated shapes and forms that dance together on the picture plane, balanced and completely pleasing to the trained and untrained eye."
The Monmouth Museum, founded in 1963 as a Museum of Ideas, presents changing art, history and science exhibitions to educate and entertain while providing a destination for creative expression and life-long learning to the diverse community it serves.
For more information about the Monmouth Museum exhibits and programs their website is www.monmouthmuseum.org  or call 732-747-2266. You can also find them on Facebook, Twitter and Pinterest.  ###
Source: Monmouth Museum
Share:
---
Categories: Visual Arts, Painting, Arts and Entertainment
Tags: Art, Arts, Beitzel Gallery, Exhibition, Franc Palaia, Modern Art, Museum, New Jersey, New Jersey Artist, NJ Art, NJ Museum, Oil Paintings, Paintings, Sragow Gallery
---