Taiwan Temple Encourages Drug-Free Living During 125th Anniversary Celebration
Press Release
•
updated: Feb 5, 2016
Scientologists share their award-winning drug education campaign with visitors to religious shrine.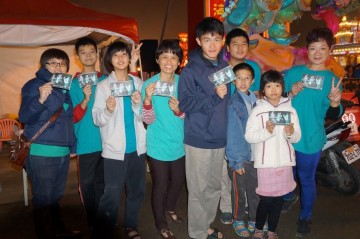 Kaohsiung, Taiwan, February 5, 2016 (Newswire.com) - Taiwan's Chia-Yi's Shin-Gong Fong-Tian Temple invited the Drug- Free World Association to share its Truth About Drugs campaign with visitors commemorating the temple's 125th anniversary celebration.
Hundreds of visitors were introduced to the program and signed a pledge to live drug-free.
Throughout the year, volunteers from Taiwan's Church of Scientology Kaohsiung and its many Scientology Missions attend sports events and other public gatherings and set up information stands in cities throughout the country to reach out to Taiwanese youth with factual information on commonly abused drugs.
Taiwan's Scientologists have distributed nearly a million Truth About Drugs drug education booklets and delivered lectures and seminars to more than 300,000 youth. This has played a pivotal role in the Church's receiving 12 consecutive annual Ministry of the Interior's Excellent Religious Group Awards.
Related Media