Tackling Rising Drug Abuse in Bangladesh
Press Release
•
updated: Mar 26, 2018
With estimates of more than 5 million people addicted to drugs in Bangladesh, a chapter of Foundation for a Drug-Free World is raising awareness among university students with the Truth About Drugs initiative.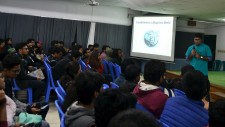 DAKHA, Bangladesh, March 26, 2018 (Newswire.com) - Mohammad Mohsin Uddin is committed to reversing the scourge of drug abuse and addiction in his country. A student at BRAC University and director of the Bangladesh chapter of Foundation for a Drug-Free World, Uddin mobilized faculty and fellow students to tackle the problem, organizing a drug prevention seminar attended by 1,200 students.
To create maximum impact, he used the Foundation's award-winning Truth About Drugs booklets and videos. One of the speakers, a former addict, gave his firsthand account of the dire consequences of experimenting with drugs.
According to a study carried out by the Bangladeshi nongovernmental organization Association of Prohibiting Drug Abuse (MANAS) the most commonly abused drugs in the country are Yaba (tablets of methamphetamine mixed with Pseudoephedrine or other ATS), cannabis, heroin and a highly addictive codeine-based cough syrup.
The Home Ministry's Department of Narcotic Control (DNC) annual drug report shows that Yaba and heroin abuse have reached epidemic proportions and most of those addicted to drugs are age 15 to 25. Hence the importance of reaching youth with effective drug education.
Uddin first discovered the Foundation for a Drug-Free World online in 2012. Since then, he has been carrying out drug awareness events to reach as many young people as possible with factual information that can save their lives. He sponsored a poster competition, established Drug-Free World clubs at Dakha, BRAC and Jahanggirnagar Universities, organizes seminars and holds booklet distribution events. He ends his presentations by inviting those attending to sign a pledge to live drug-free.
The Church of Scientology and its members support the Foundation for a Drug-Free World, a secular nonprofit corporation that empowers youth and adults with factual information about drugs so they can make informed decisions to live drug-free. The Foundation's Truth About Drugs campaign is one of the world's largest nongovernmental drug education and prevention initiatives. Thanks to this support, the Foundation provides drug education booklets, videos and educator guides free of charge to teachers, mentors and civic and community leaders.
According to the United Nations Office on Drug Abuse and Illicit Trafficking, "Every dollar spent on prevention can save governments up to ten dollars in later costs."
Source: ScientologyNews.org
Related Media