Table Needs Now Offering Digital Menu Boards for Drive-Thru and Counter-Service Restaurants
Press Release
•
Jul 31, 2023
Digital Menu Boards Seamlessly Integrate With Table Needs Point of Sale to Increase Restaurant Efficiency and Sales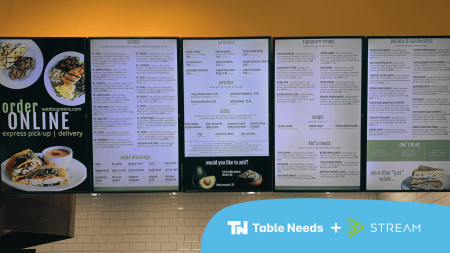 MOBILE, Ala., July 31, 2023 (Newswire.com) - Table Needs, Inc., a leading provider of restaurant technology and business services for food trucks, cafes, and quick service restaurants, announced today the launch of digital menu boards to its growing suite of services.
In alignment with Table Needs' commitment to providing comprehensive technology built to enhance restaurant operations, the addition of digital menu boards offers a simple, cost-effective way for quick-service restaurants, coffee shops, and drive-thru restaurants to increase sales, improve customer satisfaction, and streamline menu management.
"With the addition of digital menu boards, Table Needs offers an even more comprehensive restaurant POS solution that's intentionally designed to help restaurants increase profits and streamline their operations," said Ben Simmons, CEO of Table Needs. "This is an important part of our mission to be the complete profitability solution to restaurants."
TABLE NEEDS DIGITAL MENU BOARDS INCREASE PROFITS FOR COUNTER-SERVICE RESTAURANTS AND DRIVE-THRU RESTAURANTS
100% ROI within six weeks plus an increase in average ticket sales. That's just a glimpse into the power of digital menu boards.
Between the cost savings of not having to continuously replace plastic or paper menus and the increase in average tickets, restaurants using digital menu boards see a return on their investment within 2-3 months.
Average tickets skyrocket after the installation of digital menu boards because people buy with their eyes. Restaurants using digital menu boards are able to showcase their most profitable menu items in vivid color, making them irresistible to customers.
In addition to higher average tickets, digital menu boards also encourage a higher volume of tickets. Digital menu boards make it easier and faster for customers to place orders and greatly reduce miscommunication - saving your staff a tremendous amount of time per order.
TABLE NEEDS DIGITAL MENU BOARDS INCREASE EFFICIENCY & CUSTOMER SATISFACTION
With Table Needs, restaurant owners can manage all digital menus - online menus, QR code menus, digital menu boards - from a single platform. Menu modifications, pricing changes, and availability can be adjusted and reflected on all or just one digital menu in real time with just a few clicks. This eliminates the need to painstakingly update static, plastic signs or have to redesign and reprint paper menus, saving restaurant owners thousands of dollars.
Because digital menu boards integrate seamlessly with the Table Needs Point of Sale system, all orders, no matter where they originate, are processed, routed, and reported through a single platform.
"Creating simple, effective systems that improve a restaurant's efficiency and profits is what we're about here at Table Needs," said David Frahm, COO of Table Needs. "We make it possible for restaurant owners to manage everything, from menus and ordering to expediting, reporting, and beyond, from a single platform."
Digital menu boards also increase order accuracy. Customers can see their orders appear on the digital menu board's screen in real time, allowing them to confirm or make changes before firing.
TABLE NEEDS PARTNERS WITH STREAM TO PROVIDE DIGITAL MENU BOARDS
"We decided to partner with Stream, LLC to provide digital menu boards to our restaurant partners because they offer a great product but also because they're outstanding people," said Simmons. "The team at Stream truly cares about their customers and their customers' businesses."
Stream is a cutting-edge provider of digital signage products based in Salt Lake City, Utah. In addition to digital signage products, the team at Stream offers graphic design, video design, and photography services. https://explorestream.com
TO LEARN MORE ABOUT TABLE NEEDS PRODUCTS AND SERVICES
Products
Services
Resources
ABOUT TABLE NEEDS
Table Needs, Inc. is a fast-growing provider of restaurant technology and business services for quick-service restaurants, coffee shops, and food trucks. Built to grow with your business without requiring disruptive updates or hardware overhauls, restaurants can start where they are and add on features, like commission-free online ordering, sales tax automation, cash discount program, staff management, digital marketing, bookkeeping, and more, as goals and growth develop. For more information about Table Needs Needs, visit https://tableneeds.com/.
Source: Table Needs